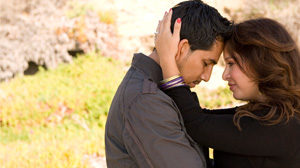 Scripture:
Ezekiel 16:1-15, 60 or 16:59-63
Matthew 19:3-12
Reflection:
At wedding liturgies, I often include the following true story: "Dame Sybil Thorndike and Sir Lew Casson gave 2 person plays throughout England in the first half of the 20th century.  They had a long and happy marriage.  Sir Lew died first.  Dame Sybil was being interviewed afterwards by one of the popular newsweeklies there.  after many questions, the final one was: "Dame Sybil, did you ever think of divorce?"  She took about a half-minute, then answered,: "Divorce never, murder often!" People in the congregation usually enjoy a hearty laugh!
In today's gospel, some pharisees and Jesus are dead serious as they converse about the reality of marriage and the painful reality of divorce.  After their question, Jesus gives the great reality of marriage: "For this reason a man shall leave his father and mother and be joined to his wife, and the two shall become one flesh."  Jesus acknowledges that some couples are not able to keep this commitment: "because of the hardness of your hearts Moses allowed you to divorce…."   By God's grace, some are called to marriage, some to priesthood and religious life and some to being dedicated single people, all for the sake of the Kingdom of heaven.  These are all due to God's initiative.  Our response, out of love, is to answer in the form of a covenant.  These covenants mirror the covenant God made with the chosen people (first reading from Ezekiel).  With grace, deep communication and hard work, these covenants are possible and can thrive.  Let us pray especially for all of our married friends, that their covenant of love may be deepened and strengthened!