Feast of the Assumption of Mary
Scripture:
Revelation 11:19a; 12:1-6a, 10ab
1 Corinthians 15:20-27
Luke 1:39-56
Reflection: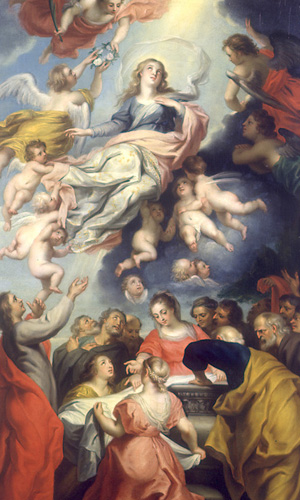 Today we celebrate one of the most special feasts of our Blessed Mother, the feast of the Assumption. This was declared to be a universal feast of the Church by Pope Pius XII on November 1, 1950. In his own words, "We pronounce, declare and define it to be a divinely revealed dogma that the immaculate Mother of God, the ever-Virgin Mary, having completed the course of her earthly life, was assumed body and soul to heavenly glory." The Pope's declaration, of course, was actually a formal announcement of what was already a commonly held belief of the faithful in the Catholic Church for centuries.
But what I personally most love about this special day is that, in a very unique way, for perhaps the first time ever, we are invited to think about the intimate relationship, not of Mary with her own beloved Son, Jesus, but with God the Father. It was God who sent his only Son into the world to be our Savior (For God so loved the world, that He gave His only begotten Son) and it was God who sent the angel Gabriel to Mary to invite her to share in the mystery of the Incarnation. There was a very special relationship already begun by the loving outreach of God. And, in this feast of the Assumption, we are invited to reflect on how, at the end of the Blessed Mother's life, in the mystery of her Assumption into Heaven, there is an expression of the wondrous faithfulness of God himself by drawing her to himself, body and soul, glorious in every way.
When people question me about this great mystery, my response is quite simply, "Well, God can do anything, right?" But surely there is more to it than that! The Assumption of Mary, just like the resurrection of Jesus himself from the dead, is the ultimate and clearest expression of the faithfulness of God, our God, who loves us in this way, too! Our God is a faithful God, just as the hymn declares. And our faithful God is with us in every moment, just as God was with Jesus, and just as God was always by Mary, as well. Today, in all the events surrounding us, especially those things that test our faith, how important it is to remember: "Our God is faithful. Our God is a faithful God." If we remember this, dear friends, then, just as did our Blessed Mother, we too can declare and sing with her those great words form her own Magnificat, "My soul proclaims the greatness of the Lord, my spirit finds joy in God my savior…God who is mighty has done great things for me, and holy is His name."
Fr. Pat Brennan, C.P. is the director of Saint Paul of the Cross Passionist Retreat and Conference Center, Detroit, Michigan