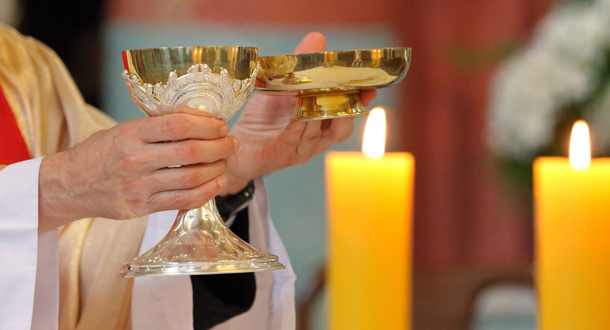 Scripture:
Proverbs 9:1-6
Ephesians 5:15-20
John 6:51-58
Reflection:
"The Jews quarreled among themselves, saying, "How can this man give us his flesh to eat?"
John 6:52
The readings for today's Mass invite us to eat and drink nourishments that give us wisdom and life (the first reading and the Gospel proclamation) and to avoid drinking to excess (the second reading). These readings make it easy for us to reflect upon the gift and grace that the Sacrament of the Eucharist is for us. The Eucharist is the nourishment that gives us wisdom and understanding, communion with God and with one another and that reminds us that Jesus, Son of God and Son of Mary, will never abandon us. The Eucharist is one of God's greatest signs of love for us. Without the Mass, without Eucharist, we do not have life within us nor do we have eternal life. Jesus' message was quite clear.
And this gift is given to us within the Community of the Church. It is not a personal gift, even though each one of us benefit personally from this beautiful gift. It is a gift given to us in community. We receive this Sacrament only when we are members of the Catholic Church.
While the Sacrament of the Eucharist challenges us to a faith that goes beyond the appearances of bread and wine, the Sacrament also challenges us to believe that a sinful People can also be the holy People of God. It is this last challenge to our faith in the Eucharist that often becomes the stumbling block for many. So many of us stop coming to the Eucharist when we are angry at the Church. And most often we get angry at the Church when we are trying to justify a lifestyle that is outside the norms that the Church as established as being in full communion with God and with our brothers and sisters. We want to be both sinful and saved at the same time. We want God to discount our sinful behavior: our addictions, our sexual misconduct, our dishonesty, our blindness to social justice, our commitment to war and violence as the resolution of our problems, our prejudices and racism, our commitment to life, from the womb to the tomb. We want to pick and choose. We want to be vocal about how wrong abortion is, but choose to be silent about how wrong it is for people to live in poverty, condemn people to a life without education and health care or deny the dignity of human life because they are not citizens of a country. Eucharist forces us to choose the right path in life.
Sometimes we stop coming to Mass because we are angry at the Church and Church people. We think we will punish the Church by not coming to Church, not receiving the sacraments. We end up by punishing ourselves, by depriving ourselves of the very graces that we need to overcome the faults and failings of our Church.
As Jesus said in today's Gospel, the Eucharist is necessary for us to gain eternal life. Without Eucharist, we continue the path of destruction. The Eucharist challenges us to be good people and good disciples of our Lord and Savior, Jesus Christ and brothers and sisters to one another. What a gift Jesus has given us!

Fr. Clemente Barrón, C.P. is a member of Mater Dolorosa Community in Sierra Madre, California.