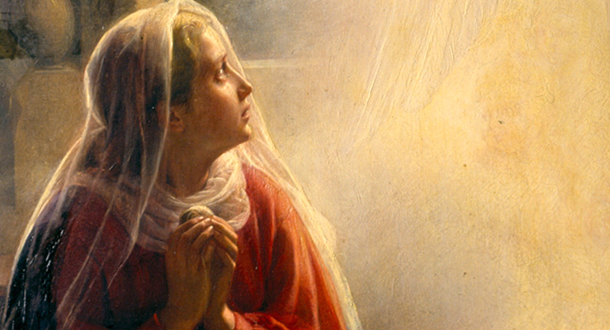 Memorial of the Queenship of the Blessed Virgin Mary
Scripture:
Judges 6:11-24a
Matthew 19:23-30
Reflection:
When I read the prophecy by Isaiah, I close my eyes and listen as I come to the verse "…unto us a child is born…" Close your eyes with me. Do you hear it? The beauty of Handel's composition ringing out with the strength and wonder of the voices of the Mormon Tabernacle Choir fills the mind and soul. We have much to reflect on from this verse alone. The intensity of God's love strengthens to the moment God sends the Son to be our Savior.
With the marvel of this musical composition as backdrop, perhaps we are able to look more closely at all of our Scriptures today for a reflection on God's working with humanity for the unfolding of the divine plan for salvation. Our mind's eye now focuses upon the various persons we are privileged to walk with in today's episodes. We have Gideon and his call to be Champion of Israel against the Midianites while in Matthew's Gospel; we are listening in on a conversation about this motley crew of disciples and their future with the Lord Jesus. In Isaiah's prophecy we meet the lowliest of people who walk in darkness who are destined to live in the light of a king descended from David who rose to be King from his position as the least of Jesse's sons. Luke permits us to hear the private conversation between Mary and the Angel Gabriel. Here we find an unknown, simple teenage girl who has been chosen to be the Mother of God. Mary herself would later pray about God recognizing her in her lowliness.
In every instance, we are invited to understand how God chooses those whom we might consider to be insignificant people to bring the divine plan to fruition. Gideon understands himself to be the least member of the most insignificant family in Israel. By God's choice and design, he is to be the Champion of Israel who will save the nation from the might of Midian. He is cajoled to set aside his doubts and hesitation, avoid fear and trust in the presence and power of God who is with him. In the gospel, it is the poor who have a keen sense of the presence and power of God. The rich will have a more difficult, almost impossible time seeing and responding to their dependence upon the grace and power of God. The disciples see immediately – He is talking about us, we are poor, we left everything to be with Him. What will be the result? They will have eternal life. These least ones who were last will be first as will all who are least ones. Isaiah is addressing the least nation who walks and stumbles in the darkness caused by rejection of their covenant life with God. In Luke's gospel, we share a special moment with Mary who understands fully who she is and who God is in her life. She recognizes her need for God's presence and power in her life every step of the way, even in the midst of questions and wonderings.
Each of these offers us a moment to consider the truth of ourselves before God. We are nudged into admitting and accepting that we can do little by ourselves. Rather, we are in need of God's presence and power in our lives every bit as much as these scriptural companions. We are encouraged to recognize how genuinely astonishing God's choices for helpers tend to be. The most unlikely, the most unexpected person, the one everyone else would pass by is the very one God chooses to bring light, divine energy and design into the world. I recently heard someone recount his daily walk past a whisker faced, dirty, smelly homeless man who sat under a railroad overpass. Each day, he would look up, reach out his hand and ask, "Change today?" After weeks of just passing by, the person suddenly realized he had been ignoring the gospel imperative in his life by making the man invisible to his eyes and untouchable by his heart. This least one had been chosen by God to make the gospel a living reality in this person's life. He learned the call to recognize and honor the dignity of every man and woman.
The moral of our story today? Firstly, maybe we are least ones ourselves. Maybe we are being asked to place our lives into the hands of a great God who seeks to further the divine plan through us in a special way. Secondly, we must all be alert to recognize the least ones who are in our lives or who happen to wander into our lives for a bit. We just may become privy to the designs of God becoming manifest through them. Finally, we are invited always to recognize the presence and power of God around us. We are to listen well to the encouragement we receive in our scriptures today: to Gideon, "…go with strength…I will be with you…"; to the disciples, "Many who are first will be last, and many who are last will be first"; to Israel in darkness hoping for light, "The zeal of the Lord of hosts will do this"; and to Mary, "…for nothing will be impossible for God."
Fr. Richard Burke, CP, is a member of St. Paul of the Cross Province. He lives at St. Ann's Monastery in Scranton, Pennsylvania.