Scripture: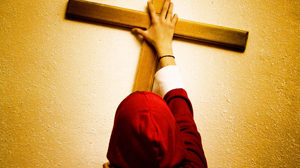 Jeremiah 31:1-7
Matthew 15:21-28
Reflection:
In today's Gospel we read about the woman who asked Jesus to heal her daughter but was told Jesus couldn't help her because he was sent only to the house of Israel and it wasn't right to take the food of the children and throw it to the dogs. How astute was her answer: "Please, Lord, for even the dogs eat the scraps that fall from the table of their masters."
I believe this woman's ability to pursue the Lord even after he ignored her and then rebuked her came from her mother's heart. She wasn't asking for herself, she was asking the Lord to heal her daughter because she was being tormented by a demon. When our children are hurting, we will do anything to help them!
Jim and I watched a movie recently called "Miracles from Heaven." It is the amazing true story of a young girl who was dying from an incurable disease, but after an accident, she was miraculously healed. I cried throughout the movie as I watched this little girl suffer, and as I felt the depth of the suffering of her parents because they couldn't take away her pain. Even after the family was given no hope for a cure, the mother took her daughter to Boston from Texas to see a specialist without an appointment she was so desperate to find help.
Are you desperate for God's help? Or have you felt unworthy of His love? Don't give up! Like these two women, keep seeking God and asking for His help. Let this verse from today's psalm give you hope: "I will turn their mourning into joy. I will console and gladden them after their sorrows." Even if you don't get a miracle like the family in the movie, or a physical cure like the daughter in the gospel, God will be with you to console you and one day you will again find joy.

Janice Carleton and her husband Jim live in Portland, OR and partner with Passionist Fr. Cedric Pisegna in Fr. Cedric Ministries. She is the mother of 4 grown children and grandmother of 6. Janice also leads women's retreats and recently published her second book: God IS with Us. Visit Janice's website at http://www.janicecarleton.com/ or email her at [email protected].