Scripture: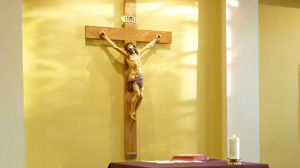 Exodus 40:16-21, 34-38
Matthew 13:47-53
Reflection:
"My soul yearns and pines for the courts of the Lord. My heart and my flesh cry out for the living God… Happy they who dwell in your house!" Psalm 84: 3, 5
We all have a hunger that only God can fill. We try to fill it with new houses and new cars, promotions and food, vacations and so many things! But even when we get those things, if we are really honest with ourselves, we are never completely satisfied. We can't be this side of heaven.
When we get home from our dream vacation, we start thinking about where we can go next. After a lovely meal, we get hungry a few hours later. When we get the dream job we worked so hard to get, we find out it has its own problems. New houses don't stay new forever, new cars get dings. It's surprising how quickly things aren't new anymore and how even all of the lovely and beautiful things on earth are only a dim reflection of what we will see and experience in heaven.
This is good news really, because God made us for Himself, and we will only be completely happy and fulfilled when we meet Him face to face. It's good to long for something more, and to have something to look forward to. But at some point, we need to shift our longing from things here on earth to God alone and to the day when we will stand in His Presence and experience His love for us completely as we never have before.
Our gospel today also mentions that the angels will separate the wicked from the righteous at the end of the age. This is our call to share the good news! Not by judging, but by loving those in our paths so that they may also fall in love with God. Once we have experienced the personal love of God, how can we not share it with others?

Janice Carleton and her husband Jim live in Bainbridge Island, Washington,  and partner with Passionist Fr. Cedric Pisegna in Fr. Cedric Ministries. She is the mother of 4 grown children and grandmother of 6. Janice also leads women's retreats and recently published her second book: God IS with Us. Visit Janice's website at http://www.janicecarleton.com/ or email her at [email protected].