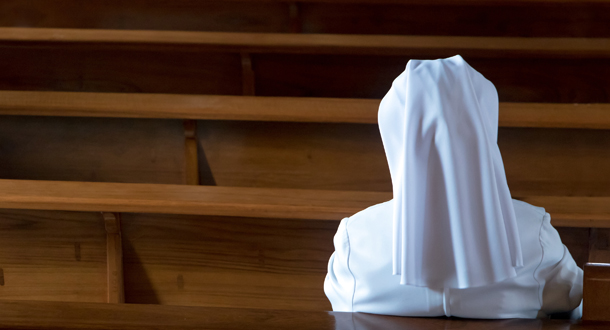 Scripture:
Jeremiah 26:1-9
Matthew 13:54-58
Reflection:
"'A prophet is not without honor except in his native place and in his own house.'" Matthew 13:57
Jim and I were talking about this verse, comparing it to how many people feel that their words and even their lives don't have much impact on their own children. So many children have fallen away from the faith! And yet there are times too, when the opposite happens, and we as parents are challenged to grow deeper in our faith by our children.
That has been the case for us since Julie entered the Sisters of Life nine years ago. I am a cradle Catholic, and have loved the Church since I was a little girl, but I have learned so much from Sr. Cecilia Rose! When she entered, we promised her that we would pray the rosary for her every day as she discerned this calling to religious life. And in so doing, the rosary has become a very important part of our day. We even attend a group that prays the rosary together at church.
Sister has told us about many of the books that she has read and reading them has also led us deeper into our faith. One of my favorites is "The Family that Overtook Christ," a story about St. Bernard of Clairvaux and his holy family. Another great one is "The Father's Tale" by Michael O'Brien.
After praying the Liturgy of the Hours when visiting the Sisters I was inspired to get my own set of books. Now whenever I pray Morning or Evening Prayer, I feel connected to Julie and all of the Sisters who have become our family. Just three days from today, Sr. Cecilia Rose and 7 other Sisters will profess their final vows, which is a beautiful testament to the future of our church!
We would so appreciate prayers for safe travel for all those attending, and for each of the Sisters as they give themselves completely to the Lord. The ceremony itself is very beautiful and can be watched on the Basilica's website: www.stjohnsstamford.com. Just click on the Live Webcam in the upper left corner. Mass begins at 11 AM (ET) on Monday, August 6th. Thanks for praying!

Janice Carleton and her husband Jim live in Bainbridge Island, Washington,  and partner with Passionist Fr. Cedric Pisegna in Fr. Cedric Ministries. She is the mother of 4 grown children and grandmother of 6. Janice also leads women's retreats and recently published her second book: God IS with Us. Visit Janice's website at http://www.janicecarleton.com/ or email her at [email protected].