Transfiguration of the Lord
Scripture: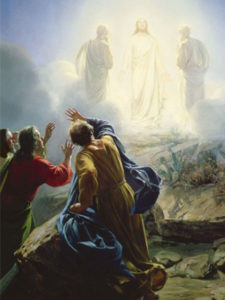 Daniel 7:9-10, 13-14
2 Peter 1:16-19
Matthew 17:1-9
Reflection:
Today, since it is August 6, we celebrate the Transfiguration of Jesus instead of the 18th Sunday in Ordinary Time. On this feast we recall the account of Jesus taking Peter, James and John up a high mountain where He reveals Himself as not solely human but also divine. The three apostles get a glimpse of the glorified Jesus which they will see more fully at the Resurrection. They not only see Jesus, but they see both Moses and Elijah, and when a cloud comes over them, they hear a voice say, "This is my beloved Son, with whom I am well pleased. Listen to him." When they hear the voice, they fall down and are very much afraid. Then Jesus touches them, and says, "Rise, and do not be afraid."
"Rise, and do not be afraid" is what I hear Jesus saying to us. While we do get glimpses of resurrection and life, we may still find the world a fearful place. But if we let the love of Jesus touch us, we can still get up and keep on going! In our second reading from 2 Peter, the author tells his fellow disciples that the "prophetic message is altogether reliable. You do well to be attentive to it, as to a lamp shining in a dark place, until day dawns and the morning star rises in your hearts." No matter how dark the place may be where we are, we can look to Jesus, and let the "morning star" rise in our hearts!
Are we willing to listen to Jesus, as the voice from heaven told the three apostles to do? Are we willing to rise and let go of fear? Although it is so important to pray and spend time with God, we cannot, as Peter proposed to Jesus, stay on the mountain. Filled with the hope of resurrection, we are called to go out to the world, proclaiming the Good News of Jesus Christ. We're called to share the love of God in Jesus Christ, even with the lowest of the low; even with those who seem to be against us. The peace which flows from justice is what we work for in this world in which we live.
If we wonder how in the world we can possibly do what Jesus asks of us, we need to remember that God can transfigure us! God can heal us of fear and prejudice and resentment and self-serving; of all those things that hinder us from our call. Dare we hope to be transfigured? I'll go one better. Dare we hope that we can contribute to the transfiguration of the world? We may differ in what that looks like. We may even be in conflict about what should be done. But there is an option for the poor, and there is an element of caring for the earth, as Pope Francis may say. The Transfiguration reminds us that Jesus can lead us to resurrection. He is calling us: "Rise, and do not be afraid."

Fr. Phil Paxton, C.P., is the local superior at St. Paul of the Cross Passionist Community in Detroit, Michigan.