Scripture: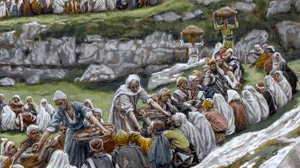 Numbers 11:4b-15
Matthew 14:13-21
Reflection:
But they said to him, "Five loaves and two fish are all we have here." Then he said…"
Matthew 14:17-18
I don't know what it's like to go to bed hungry. As a child more often than not I had to be told to finish my spinach or liver, whatever it was that I didn't particularly like because there were children starving all over the world. As an adult, I've been blessed with nearby grocery stores with tens of thousands of items for my choosing as well as the ability to purchase them.
Despite what I read in the newspapers and hear on the evening news, as a 21st Century American It's hard for me to believe that anyone anywhere is really hungry for food or for that matter the Good News of Jesus. I am led to believe that if I can feed myself and hear the gospel preached to me regularly, so can and does everyone else.
Maybe like the Israelites Moses led across the desert, I need to experience hunger or maybe like the apostles in today's gospel selection I just need to trust God and do as He tells His apostles, i.e. send no one home hungry, but gather the bits of loaves and fishes I've been blessed with and share them with all those who hunger and thirst.

Dan O'Donnell is a Passionist Partner and a longtime friend of the Passionists.  He lives in Chicago.