Scripture: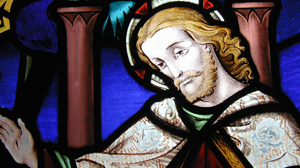 Isaiah 41:13-20
Matthew 11:11-15
Reflection:
One of the things I most enjoy during these Advent days is listening to the readings taken from the prophet Isaiah.  Sometimes the message of Isaiah is gentle and loving, for example, "Comfort, give comfort to my people, says the Lord"; at other times, as we see in today's readings, Isaiah can be bold and challenging as he says, "Fear not, O worm Jacob, O maggot Israel; I will help you, says the Lord; your redeemer is the Holy One of Israel."  And sometimes, Isaiah poetically paints a picture of a world where justice and peace will reign supreme and God's promises to his people will be fulfilled.  The lion and the lamb will rest side by side!  In our reading from Isaiah today we hear such promises, all introduced by firm, yet faithful, words, "I will."  Notice God's strong promise to his people:
I, the Lord, will answer them; I, the God of Israel, will not forsake them.
I will open up rivers on the bare heights, and fountains in the broad valleys;
I will turn the desert into a marshland, and the dry ground into springs of water.
I will plant in the desert the cedar, acacia, myrtle, and olive;
I will set in the wasteland the cypress, together with the plane tree and the pine…
And as we think about God's promise spoken through Isaiah in these days of Advent how can we not help but think about God's same faithfulness when he promised he would send to us a Savior who would save us all from sin and darkness and invite us into a kingdom of love, peace, and goodness!  Isn't this what all of our hearts long for these days?  When I find myself feeling overwhelmed by so much of the political, social, and even global madness, I am able to rededicate my hands and heart to work for and believe in God's promise because God is faithful.  This is one of the most important Advent themes for me these days, and that is that God is faithful.  He has been faithful in the past and he will continue even in our own day.  We follow that childlike word spoken with such innocence in the enchanting story of The Polar Express and boldly found above the New York Macy's store:  BELIEVE!  Long ago St. Augustine said it well:
"Faith is to believe what you do not see; the reward of this faith is to see what you believe."

Fr. Pat Brennan, C.P. is the director of Saint Paul of the Cross Passionist Retreat and Conference Center, Detroit, Michigan.