Scripture: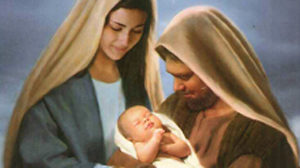 Numbers 3:1-2, 9-13
Matthew 21:28-32
Reflection:
As we prepare once again to celebrate the birth of the Messiah our first scripture reading takes us back to the moment the Hebrew people completed the 40 year journey through the Sinai desert from Mt. Horeb and arrived at the plain of Moab. Before they could move into the Promised Land they would have to fight the Moabites. Barak, the Moabite king, seeks out a locally well-known prophet, Balaam, son of Beor, to curse the invaders. To the surprise and consternation of Barak, rather than cursing them, Balaam utters blessings.
In the first oracle Balaam blesses the Israelite people spread out in the plain below. He says they are like gardens watered by a stream or tall cedars planted by God. Their wells will provide free flowing water and the sea will open ways to prosperity. Their leader will rise ever higher and his family will be exalted. For us today we are reminded that Jesus came from a blessed people, that he was formed by his synagogue in Nazareth, and by the temple worship and sacrifice in Jerusalem. Circumcised on the eighth day he bore in his body the mark of his Hebrew heritage. Mary taught him his first prayers and Joseph and Mary introduced him to the annual Passover celebration in Jerusalem. Today the Church says that Christians should not actively pursue the conversion of Jews. God will save them through the covenant he made with Abraham, Isaac, and Jacob and renewed on Mt. Sinai before the people entered the Promised Land.
The second oracle is mysterious. Far in the future (not now, not near) Balaam sees someone who advances like a star or a staff rising. He sees the star and staff coming from Jacob (Israel). Such portents indicate that the Israelite people have god's blessing and the Moabites will not be able to block their advance. Looking back two thousand years we have a clearer understanding of the prophecy. It wasn't David or Solomon or any subsequent king that Balaam dimly saw. The star is Jesus and with his help (the symbolized by the staff) we can walk the way he leads us.
Jesus is rooted in the hopes and expectations of his people. He is the Messiah, the anointed one who reestablishes the Kingdom. May we enter deeply into this time of waiting and experience once again the mystery of Divine Birth.
Fr. Michael Hoolahan, C.P. is on the staff of Mater Dolorosa Passionist Retreat Center, Sierra Madre, California.