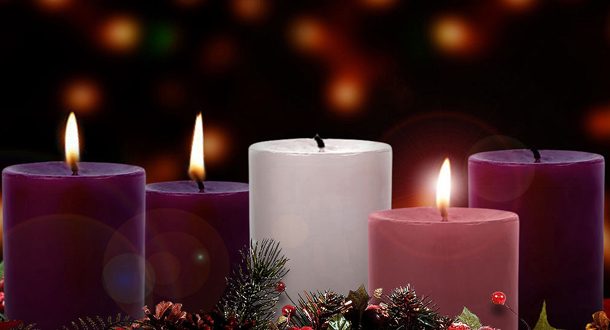 Third Sunday of Advent
Scripture:
Isaiah 35:1-6a, 10
James 5:7-10
Matthew 11:2-11
Reflection:
In our Gospel reading for Sunday (Matthew 11:2-11), we find that John the Baptist is now in prison, basically for having spoken "truth to power." From prison he sends his followers to Jesus to ask Him, "Are you the one who is to come, or should we look for another?" We may wonder why this man of faith, who recognized Jesus as the Messiah in the Jordan River, would ask such a question.
If we look back at last Sunday's Gospel, John was describing the Messiah to the people: "I am not worthy to carry his sandals. He will baptize you with the Holy Spirit and fire. His winnowing fan is in his hand. He will clear his threshing floor and gather the wheat into his barn, but the chaff he will burn with unquenchable fire." If we look at how Jesus related to the people, it is true that He was in conflict with the Pharisees and the scribes and the elders, but He did not seem interested in overthrowing them as the leaders of the people.
But even more to the point, John was in prison! If the Messiah was here, why was he still there? It's not hard to understand where John is coming from. Even though this is the holiday season, and this Sunday in the Church is called "Gaudete Sunday," and "Gaudete" means "Rejoice," we may not feel we have much to rejoice about.
If we're discouraged, as John seems to be, what do we do? When John's disciples come to Jesus and asks their question, Jesus responds, not with fulfilling John's expectations of Him taking an "ax" to the "root of the trees" (Matthew 3:10), but with fulfilling another kind of expectation, found in our first reading from Isaiah (35:5-6a,): "Go and tell John what you hear and see: the blind regain their sight, the lame walk, lepers are cleansed, the deaf hear, the dead are raised, and the poor have the good news proclaimed to them."
Hopefully, with this answer John regained his "sight," and he could see that Jesus was indeed the one he was waiting for, even though He would fulfill God's plan in an unexpected way. "But, Father," you may ask, "What about me?" As far as I can see, I don't see these wonderful things happening for me?" I know that it may not be happening for you now, and it may not have happened for you in a long time, but I believe it will happen for you. Again, it may not be in the way you expect. It may even require you to step out in faith, and help make it happen for someone else. But it will happen. God has not abandoned or forgotten us! Jesus is right with us in our troubles!
So as we make more and more room for Jesus, we rejoice. We rejoice about His love for us. We rejoice in His birth! We rejoice in His Passion and death! We rejoice in His Resurrection! And as we rejoice, we regain our sight of His love for us. We hear Him speak words of comfort to us. When we think we can't go another step, we find the strength to keep walking.
And maybe, just maybe, we are able to see others as God sees them. We are not deaf to their stories, as others are not deaf to ours, and instead of shunning the "other," we try to help them find joy in the love of God in Jesus Christ.
This joy, I think, is deeper than what we usually think of when we think of happiness. But it is real, and it is possible. May we make room for Jesus, and find joy in Him.

Fr. Phil Paxton, C.P., is a member of the Passionist Community in Birmingham, Alabama.