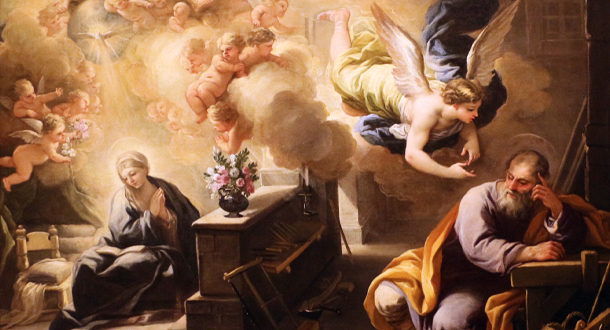 Scripture:
Jeremiah 23:5-8
Matthew 1:18-25
Reflection:
"…Behold the angel of the Lord appeared to him in a dream…"
A familiar story…an angel…and a dream…the story is so familiar (especially at this time of year!) that sometimes we don't listen, or hear, or engage. Like all of Scripture, the story always has something to say – in particular, something to say to us – to me! what does an angel and a dream have to say to me? Mary and Joseph, both 'essential' characters in God's unfolding plan, encountered an angel and trusted a dream. And God worked a miracle.
As children, we all learned about 'guardian angels' – we each had one, sent from God to protect us – remember the images you had as a child trying to figure that out, understand it, embrace it even – some of us named them, maybe even talked with them. Over time that image/concept was tucked away or slipped away and was forgotten.
Mary's greeting surprised her and scared her a bit Hail favored one, the Lord is with you, and she questioned, she pondered and she stepped into it. Joseph did not want to hurt Mary, he loved her, he was hurt and afraid, in his dream he heard Joseph, son of David, do not be afraid, take Mary into your home – the greeting caught his attention because is deeply touched his experience – he too stepped into it…
Maybe the message for me (us) is to remember we all have an angel and a dream. We all are told Hail favored one, the Lord is with you…do not be afraid…trust the message of your heart – you always have what you need, God always has your back! Maybe the invitation for us is to ponder the 'angels' in our lives – those who catch us off guard with a powerful truth that can turn our world upside down! And trust those dreams, where deep in our center, we know whose we are and what we need to do, but, or even if everyone else says otherwise.
We hear this story now, in the home stretch of Advent – each of us, essential characters in God's unfolding plan – will we notice the angel and trust the dream – and be surprised by the wondrous miracle about to be worked by God.
Faith Offman is the Associate Director of Ministry at St. Paul of the Cross Passionist Retreat and Conference Center in Detroit, Michigan.