Scripture: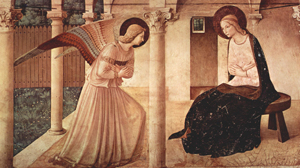 Reflection:
Would you be willing to tempt the Lord?  In our reading from Isaiah today it is clear that Ahaz, the king of Israel, is not willing to do so.  After Isaiah tells him, "Ask for a sign from the Lord, your God; let it be deep as the nether world, or high as the sky!"  Ahaz responds, "I will not ask!  I will not tempt the Lord!"  Perhaps Ahaz responded this way because he felt unworthy to test God's love for Israel.  But, it seems that Isaiah interpreted his unwillingness to ask for a sign of his lack of faith in God's faithfulness to Israel.  So, Isaiah tells Ahaz that the Lord himself will give a sign, "A virgin shall conceive and bear a son and shall name him Emmanuel."
In the Gospel from Luke today, we hear of the fulfillment of that promise.  The angel comes to Mary and asks her to be the Mother of the Messiah.  Clearly, Mary is puzzled by this request and asks the angel, "How can this be?"  But, unlike Ahaz, Mary doesn't let her lack of total understanding of what this might mean, keep her from responding to the request with her, "Let it be done to me according to your word."  In other words, "Yes, I will do as you ask!"  It seems that Mary is able to say "yes" to the angel, precisely because she trusted in God's faithfulness to her.
So, in today's reading we are presented with this wonderful contrast between Ahaz, not trusting and so not able to respond positively, and Mary, trusting in God and so able to give her whole hearted "yes" to God's plan for our salvation.  Where are we in this spectrum?  Are we able to trust in the Lord's faithfulness to us, or do we find ourselves reluctant to risk trusting in God?  Wherever we are, the good news is that God remains faithful to us always, even when we are not so sure!

Fr. Michael Higgins, C.P., is the director of Mater Dolorosa Passionist Retreat Center, Sierra Madre, California.