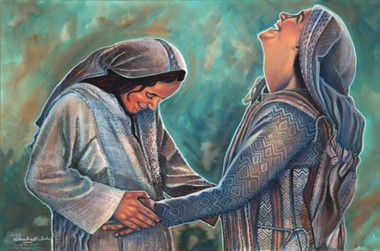 Scripture:
Songs 2:8-14 or Zephaniah 3:14-18
Luke 1:39-45
Reflection:
Our first reading comes from the Song of Songs which is an allegory of God's love for his people. In this passage the groom represents God, and we see God inviting the beloved to come and live with God in happiness. In the alternate reading from the Prophet Zephaniah proclaims rejoice for the Lord is in your midst. God has protected them from their enemies. In the gospel text, we see Mary traveling to visit Elizabeth and her unborn son rejoicing for Mary is carrying the Lord and therefore is blessed. (Adapted from Reflections on the Daily Readings; The Irish Province of the Order of Carmelites (O. Carm.) http://www.carmelites.ie/prayer.html)
There are just a few more days till Christmas. These texts remind us that God is renewing us with affirming love. Have you ever thought that God is glad because of you and me? This fills me with Advent hope. The first two texts are about living our life in union with God and about our being restored in God's life and love. "God sings joyfully because of you" (Zephaniah 3: 18). Can we imagine that God is singing joyfully because of us? Like Jerusalem, we too have fallen short of our best self at times. Our God yearns to be one with us. God is the Great Restorer. In these final days of Advent let us take time to be mindful and if we can't be joyful, be grateful for God's blessings as we prepare for Christmas. Let us pray for all those persons and families affected by the recent natural disasters in the United States and around the world. (Adapted from Sr. Macrina Wiederkehr, O.S.B., Living Faith, October, November, December 2019, Saturday, December 21, 2019)
Carl Middleton is a theologian/ethicist and a member of the Passionist Family.
Image credit: ArtbyCorby— Corby Eisbacher,Kernersville, North Carolina.