Scripture: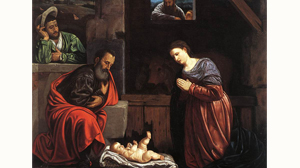 Reflection:
We recently heard news of a royal wedding coming next summer in England.  Prince Harry will marry Megan Markle.  A great many journalists are delving into the wonder of this love from differing perspectives.  For example, Harry, like his brother Prince William, will be marrying a "commoner" rather than a woman of royal lineage.  Prince Harry will be marrying a very beautiful actress who has an African American lineage.  These were once considered unusual for the royal House of Windsor.  How has this shift taken place?  Although there may be multiple factors involved, perhaps the key reason behind this evolution lies in a mother's influence.  Princess Diana was a determined mother who directed her sons' upbringing in such a way that they would know, respect and appreciate people from all levels of society and every economic status.  They would have fine dining in the palace one week and be sharing soup and bread with the homeless at a soup kitchen the next week.  They would travel to discover the wonder and beauty of differing cultures and learn to appreciate the customs and traditions which differed from their own.  They would learn to be comfortable with everyone in every set of circumstances.  Princess Diana made a very large difference in her sons' lives.
In today's Sacred Scripture, we are invited to ease drop on two mothers who experienced miraculous conceptions and births.  Both had been chosen, blessed, and given a mission to bring into the world sons who would make an enormous difference in the faith journey of Israel and the world.  Hannah's Samuel would become the wisdom figure who would lead Israel from a heritage of tribal rule and custom to a nation ruled by a King of Israel.  He would be an Israelite through and through avoiding the pagan customs like strong drink and the cutting of hair.  Samuel would anoint David king and so bring about the monarchy.  We all know what Mary's Jesus would accomplish through His preaching, healing, sufferings, death and resurrection.  Jesus would  bring about salvation not only for the People of Israel but for the whole world.  His conception and birth would become the turning point of faith for human history.  God's promises would all be fulfilled in Him.  We celebrate this gift off faith with hope and love on Christmas day.
Perhaps today's Scriptures invite us to look  at the story behind the stories.  How did Samuel and Jesus become the men they were ?  There is no doubt in my mind that the two mother's were a powerful influence in their sons' appreciation and enjoyment  of a life with God the Father, of faithfulness to prayer, of living out of the values which were grounded in their heritage, and of courage and wisdom in leading God's People forward toward the fulfillment of God's promises in their lives.  Hannah and Mary raised their sons with this vision of their faith journey and remained perhaps the most powerful influence in their understanding and determination to complete the mission God had given them.  Perhaps our Advent Scriptures invite us to two reflections today.  Firstly, we are invited to remember with love our own mothers and the powerful influence they were and have been on our own lives and faith development.  To be sure, none were perfect but their care, concern and love together with their own faith journey with God helped us to become who we are and who we will be.  At Christmas time, we take the opportunity to pray for our mothers asking God's blessings upon them for the gift of life given to us.  Secondly, we are invited today to remember that we, too, by virtue of our baptism and life with Jesus, have been given the mission  by our heavenly Father to be one with Jesus in our world today making known to others – family, friends, co-workers, neighbors, the strangers in our lives and in our land – the Good News of salvation.  Most of all, we do so by living the values Jesus taught us in His teachings and in His actions.  For most of us, we learned these first from influential mothers.

Fr. Richard Burke, CP, is a member of St. Paul of the Cross Province.  He lives at St. Ann's Monastery in Scranton, Pennsylvania.