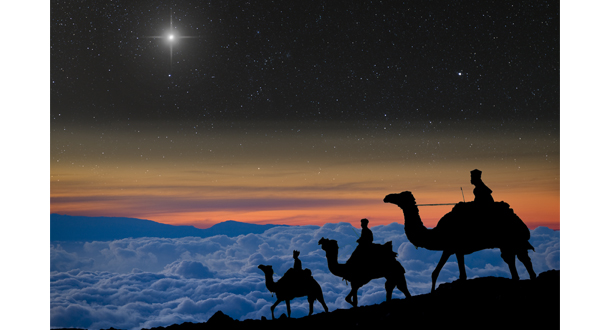 Scripture:
Reflection:
Our Christmas tree always went up the first Sunday of Advent onto this waist high table, (the better for keeping little fingers from reaching sparkly ornaments and bright but hot lights), that was about four feet long and covered by an old bedsheet that could no longer serve its primary purpose but worked perfectly as a bed of snow around the base of the tree. It then extended out the length of the table to serve as desert sand where at the far end mom would set up this oasis of palm trees with a piece of mirror shining through a hole in the sheet with sheep figurines drinking from the imagined water hole. She explained year after year about the shepherds guarding their flocks and from around the back of the oasis would come the wise men, kings on camels, following a star.
Each day we got to move the shepherds, sheep, camels, and wise men an inch or so closer to the empty nativity stable in Bethlehem, shining brightly beneath the Christmas tree . Somehow the kings always magically made it to the stable by Christmas night, arriving just after we returned from Midnight Mass, when Mary, Joseph, and baby Jesus finally appeared. The shepherds gathered around with their lambs, the camels grazed behind the shed, a cow and donkey lay in the hay guarding the Holy Family as the wise men knelt and offered their gifts to the Child. During the long, cold Advent nights all this was illuminated by the soft colors of our tree's strings of red, green, white and golden lights, with hundreds of strands of tinsel reflecting the Christmas lights and stirring gently in the air above the empty stable.
At school, Sister Mary, of beloved memory, would teach us the ancient story of an angel appearing to Mary to ask if she would be Jesus's mother. "Be it done unto me according to Thy word", she replied, and then rushed to complete a long and hard journey to help her cousin Elisabeth who was also miraculously with child. To Elisabeth Mary spoke the words that echo from that time so long ago, her poem accepting what God has asked of her with words of praise, faith and humility…. The Magnificat. "My soul magnifies the Lord…"
My own daily poem is less accepting and much more like a Monty Python skit ~ An old man constantly complaining to anyone who will listen; "My eyes are dim, my knees are weak, my back is bent, I cannot hear" in a never ending 'Litany for the Aged'. But my own family tree went up the first Sunday of Advent as it always has. With the arrival of our grandsons, it seemed prudent to get a smaller tree that could sit on a table out of reach of curious little hands. The wise men still travel across the sand towards Bethlehem, an inch or so each day as I share the magic of the Nativity story with my family, as my mother did for me. Today, I will remember Mary's words and sacrifice. I will strive to think of others and not of my inconvenient aches and pains. Tools are at hand that enable me to reach out to those the pandemic has made more distant, frightened and alone. And day by day I will move forward to Bethlehem.
Ray Alonzo is the father of three children, grandfather of two, and husband to Jan for 45 years. He is a USN Vietnam Veteran, and a 1969 graduate of Mother of Good Counsel Passionist Prep Seminary. Ray currently serves on the Passionist Alumni Council.