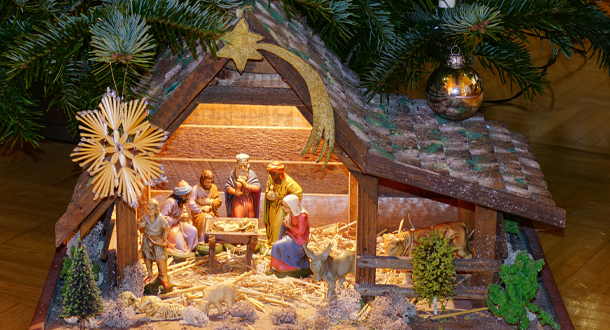 Scripture:
Reflection:
Lord, the family Christmas tree is finally up in the great room, full of twinkling lights and sparkling garlands. Nestled within its branches, shining ornaments of silver and gold make way for the important ornaments that each mark a special family moment:
"Our first married Christmas 1977", three "My first Christmas" ornaments for the births of Joe 1981, Jen 1985, and Ken 1989. "Our new home  2002." Then the cycle repeats itself with two "My first Christmas 2018" ornaments for David and Jack, Grandsons Extraordinaire.
Beneath the tree, as one has been since my birth, the nativity scene is laid out. The wooden stable covers Mary and St Joseph, standing with two cows, a donkey and three geese, (one of which has lost its beak some ages past). To the left of the manger, seven "steps" away, are the three kings walking or riding their camels, making their way to Bethlehem over white linen "sand" dotted with palm trees. To the right, shepherds guard their sheep and goats beneath the twinkling lights on the tree limb above them.
My eyes return to Mary waiting silently in the dark, desert cold. "My soul proclaims the greatness of the Lord. My spirit rejoices in God, my Savior."
This girl, who knowingly faced great danger in accepting the will of God, waits in the shadows and chill of the desert night as Joseph strives to make his young wife as comfortable as possible in their meager shelter, and prepares the manger with fresh hay and a cloth covering for the child soon to come.
I too silently wait, reflect for a few quiet moments amidst the excitement of family arriving soon, choir rehearsals, and the "faithful friends, who are dear to us, gathering near to us once more."
I am grateful, my Father, for all the joys of this holy season, for the love of family and friends, and please bless my Passionist family who have done so much for me. Happy and holy Christmas to all.
Ray Alonzo is the father of three children, grandfather of two, and husband to Jan for over 45 years. He is a USN Vietnam Veteran, and a 1969 graduate of Mother of Good Counsel Passionist Prep Seminary. Ray currently serves on the Passionist Alumni Council.