Scripture: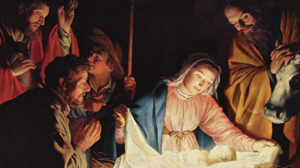 2 Samuel 7:1-5, 8b-12, 14a, 16
Romans 16:25-27
Luke 1:26-38
Reflection:
Do not be afraid, Mary, for you have found grace with God.
Grace is from the New Testament Greek word cháris which means a joyful gift from God. Mary is called the "full of grace one" by Gabriel.   Grace is used a 159 times in New Testament.   Mary was the most exceptional one to first welcome the most matchless One to come to our planet!  To do this she had to be full of grace to warmly and lovingly receive Christ.   And so must we.   We must have the gift of great faith to welcome the Incarnate Christ into our lives!  The importance of grace is paramount for us.
Someone once said we must handle truth like dynamite!  Even if we can only begin to understand the birth of Christ it is so explosive a truth that we can't handle it without a great amount of grace from God.  The astonishing mystery of the God of the cosmos taking on our human nature is utterly beyond our ability to appreciate or properly respond to it.
From the very conception of Christ Mary needed to be full of grace to warmly and welcomingly receive Christ.   She is our wonderful modal how to receive Christ.   If we could only long for Jesus as Mary yearned for Him.  We are terribly incapable of receiving the Christ child.   Let us this Christmas Eve pray for Mary's intervention so our hearts are warm and open to the coming of Christ!
As we gaze at the Babe in the manger we might prayer the prayer of St. Anselm almost a thousand years ago:
Lord my God, teach my heart where and how to seek you,
Where and how to find you.
I cannot seek you unless you teach me,
Or find you unless you show yourself to me
Let me seek you in my desire,
Let me desire you in my seeking.
Let me find you by loving you
Let me love you when I find you.   ~St Anselm of Canterbury

Fr. Bob Weiss, C.P. preaches Parish Missions and is a member of the Passionist Community in Louisville, Kentucky.