The Holy Family of Jesus, Mary, and Joseph
Scripture: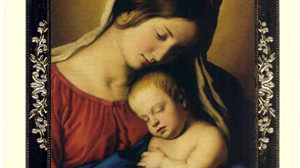 Sirach 3:2-6, 12-14
Colossians 3:12-21
Luke 2:41-52
Reflection:
Some years ago, I remember speaking with a priest from another town. I was acknowledging my discomfort (especially, as a celibate) with preaching on this Feast of the Holy Family. Cryptically, he responded, "Ah, don't sweat it, Jack; people don't expect much… tell a story, sprinkle a little spiritual pixie dust around, and you'll be fine!"  Not only is the statement remarkably condescending, it is bad theology!
Maybe that is why extended families and friends can be a challenge at Christmas. You know, the Aunt Gertrude who introduces herself as a "recovering Catholic". "Don't get me wrong, Father, I'm a spiritual woman, I'm just not into religion." Or belligerent Uncle Clarence, hovering over the punch bowl and fancying himself as master of religion and science… marveling at the wonder of technology and how it has finally, definitively, disproved the existence of God.
First of all, today's feast is not so much a day set aside to honor families… It's more an extension of the Christmas mystery: INCARNATION, the mystery of God becoming human, and what that means for us.
It's not so much about becoming spiritual beings nearly as much as about becoming simple human beings.
I had a homiletics professor at Notre Dame who, at one class, thundered: Don't sanitize Scripture! His contention was that we're so uncomfortable with the loose ends and messy humanness of Sacred Scripture, we over-spiritualize it, we try to scrub up God's word and sanitize, and we over-pietize it.
That, to me, is the very core of today's liturgy. Raising children is never easy, in any culture, at any time.
In today's "Finding in the Temple "narrative, Mary and Joseph have an adolescent, and the kid is missing, the child is lost… and whether physically, emotionally, spiritually — when any good parent becomes aware of the loss of their child, it is an occasion of worry, fear, blame, guilt, & most especially: heartbreak.
The consolation is that we will find him in the Temple, that is, we find the child back in our experience of God …compassion and tenderness, mercy, forgiveness, hope. Holy Family is not about perfection, and certainly not about some scrubbed-up and dumbed-down pious event. It's about the mystery of Incarnation, a continuation of the Christmas mystery crashing into our lives, the coming together of human and divine, material and spiritual. Emmanuel. God with us.
Fr. Jack Conley, C.P. is the director of the Office of Mission Effectiveness.  He is a member of the Passionist formation community at Catholic Theological Union in Chicago.