Scripture:
Sirach 3:2-6, 12-14 or Colossians 3:12-21
Matthew 2:13-15, 19-23
Reflection: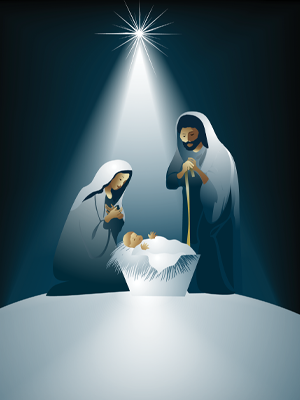 In today's gospel, on the Feast of the Holy Family, we see the undying faith of Joseph, husband of Mary. Like many people in today's world, we see Joseph going where he needed to go to keep his family safe, trying to find an inn, but having to settle on a stable for Mary to give birth. In today's reading, Joseph sees the angel of the Lord in a dream and says, "Rise, take the child and his mother and go to the land of Israel, for those who sought the child's life are dead." Not trusting the son of Herod, Joseph decided that it would be best to go to Nazareth to fulfill what the prophets had said, "He shall be called a Nazorean".
During all of the bumps in the road of Joseph and Mary, the birth in a manger, the flight into Egypt, they remain strong in their support and protection of their precious family. Lord, help us to remember to keep sacred our vows of marriage, remind us to treasure the gifts of family that you have placed in our hands, and keep the bond of our families strong!
God bless you all!
Patty Masson is the Director of Adult Formation and Evangelization at St. Ignatius of Loyola Catholic Church in Spring, Texas.