Scripture: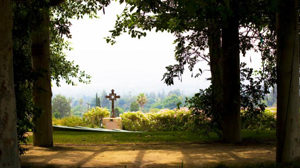 Isaiah 29:17-24
Matthew 9:27-31
Reflection:
Living with eyes open
The richness of the Advent season continues to unfold for us, and today's Gospel selection presents Jesus dealing with the blindness of two men who cried to Him for help with their blindness.  Jesus asked about their faith in Him and his power to heal them, and with their statement of faith — they were cured!
As human beings if we had to be deprived of one of our faculties, most of us would probably be least willing to give up our sight.  To miss out on seeing people, the beauties of nature, movies, television – even this computer page – is indeed threatening.  We can close our eyes for some moments and try to imagine what totally blind people experience, but our experience is very limited:  we simply open our eyes and see again.  Even trying to see without our misplaced eyeglasses or contact lenses is frustrating for us.
The Scriptures frequently present personal sinfulness in terms of blindness, and redemption in terms of renewed sight.  At the moment of our baptism our eyes were opened to see the Lord Jesus in faith.  For many of us that Baptism experience was likely years ago, today's celebration in the Advent Season asks us now:  What about our sight?  Are our eyes open?  Do we see our redemption at hand in the person of Jesus?
God is present to us everywhere, in the air we breathe, in nature – and especially in people.  God's joy radiates in the smile of an infant, His acceptance in the affection of a young child, His vitality in the energy of an adolescent, His power in the strength of an athlete, His beauty in the loveliness of a human being, His concern in the devotion of a parent, His wisdom in the prudence and insight of the elderly.  As we look more deeply at life and faith this Advent season…oh the spiritual experiences, what "sights"!
This Advent calls us not to close our eyes to God's presence, or to live imprisoned by darkness and gloom.  As did the two blind men, we're invited to profess our faith in Jesus, to acknowledge His presence and power, and to serve Jesus with eyes wide open as we boldly follow Him as 21st century disciples.  Today's responsorial psalm adds to the picture:  "The Lord is my light and my salvation, whom shall I fear?…wait for the Lord with courage; be stouthearted and wait for the Lord."  This is truly Good News for our severely troubled world!
"Come, Lord Jesus.  Help us to see with the eyes of faith!"

Fr. John Schork, C.P. is a member of the Passionist community in Chicago, Illinois.