Scripture: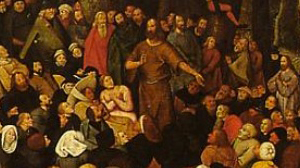 Isaiah 11:1-10
Romans 15:4-9
Matthew 3:1-12
Reflection:
Better Things to Come!
Today's Gospel presents the great Advent figure of John the Baptist, making his eccentric and spectacular appearance as a preacher in the desert of Judea.  He attracted large crowds, proclaiming that the "best is yet to come"…Jesus!
John the Baptist seems a very serious person, without much of a sense of humor – a no-nonsense kind of guy.  He has been characterized as a Bible-thumping, fire and brimstone preacher who was eccentric as he wore his simple hair-clothes and lived on locusts and wild honey…most likely not the kind of person you'd invite home for dinner with your family.  He openly proclaimed that the One to follow him was more powerful than himself, and it's time to get ready, now!
And that's the way that God often works:  God often surprises us with something more than we could have hoped for or expected.  We can be confident about the future, about better things to come, because we can look to the past and see how God has been lovingly at work.  In our first reading from Isaiah, we hear the prophecy of a "shoot sprouting from the stump of Jesse" – new and luxuriant growth – after the destruction brought about by King Ahaz in his weak and unfaithful rule over the country.  Isaiah looked for a human king, but we have the fuller picture in the person of Jesus who proclaimed the Kingdom of Heaven…more than we could have hoped for!
As we approach the end of calendar year 2016, we look forward to a better future for ourselves and our world.  Many significant world-wide challenges exist:  promises not kept, violence and mistrust, prejudice, a lack of the basics of life, selfishness, environmental issues, etc.  This Advent John the Baptist points us to Jesus and reminds us that "better things are to come…repent, the Kingdom is at hand!"  Don't stay stuck in the past; have a change of heart, let Jesus and the new Kingdom of God shine in our world.
During this first part of Advent – up to December 16 – the Church helps us focus on the 2nd coming of Jesus, when God will bring all creation to perfection.  Today we are more in touch with our need for a Savior, both in our current days and in days to come.  John the Baptist challenges us to be joyful people of hope today, confident in God's ongoing goodness and mercy.  God does so much more than simply keep promises – the best is yet to come!
As God's family we pray:  O come, O come, Emmanuel!

Fr. John Schork, C.P. is a member of the Passionist community in Chicago, Illinois.