Immaculate Conception of the Blessed Virgin Mary
Scripture:
Genesis 3:9-15, 20
Ephesians 1:3-6, 11-12
Luke 1:26-38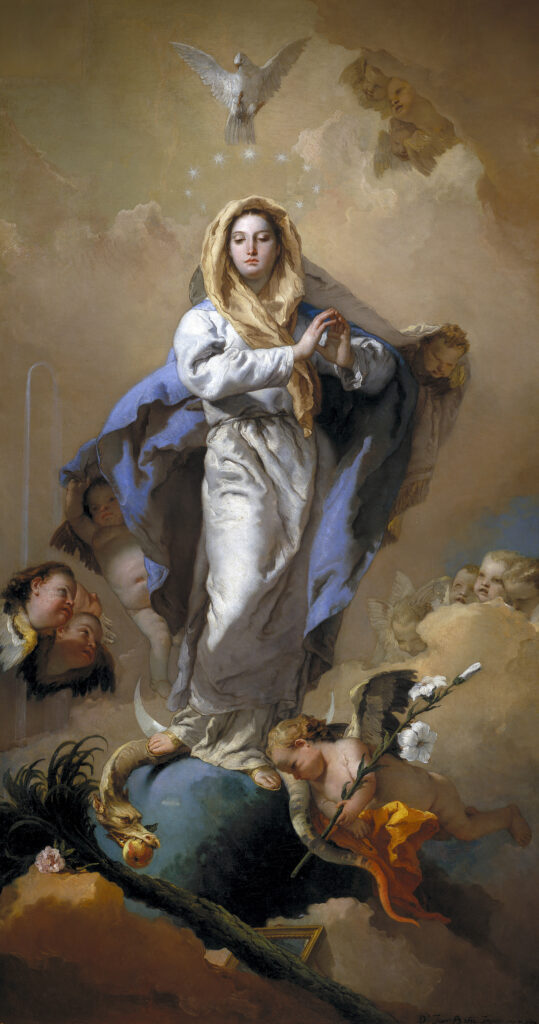 Reflection:
Today we celebrate Mary's immaculate conception. Mary was chosen by God to bear the Son of God, while free from the stain of original sin, from the moment of her own conception. Mary was uniquely qualified to carry Jesus in her womb. Because of Jesus' life, death, and resurrection, we are all able to carry Jesus in our hearts. Let Mary's obedience inspire us to give God our assent to bring Christ to the world. Bearing Christ to the world is not only the responsibility of Mary, but also every Christian's responsibility too. We have an obligation to bear Christ into our lives and witness his life and resurrection and God's saving plan to everyone we meet.
As Saint Paul wrote, "in him we were also chosen," destined in accordance with God's will (Ephesians 1:11). As Christians, we have accepted Jesus into our hearts and our lives, and we also receive Him in the Eucharist. We are all called and empowered to bring Christ into our world. May Mary's example give us the confidence and courage to accept this call.
As a son, I think about how my mother felt when she bore me into this world. Did she herald my coming? Was she pleased by the life I lived? My mother went home to God, a few weeks ago, Amen. Her death has led me to contemplate on the many memories I have of her showing her love for God, for others and for me, and appreciating all that she had done for me in her life here on earth. A mother's love is unfailing and forever. Mary, knowing that she was to bear the Son of God, must have been overwhelmed with grace, disbelief, and honor. Not knowing what all of this meant, she still said yes, and put her life into the hands of God with faith.
What a blessing to be conceived without original sin. What a blessing to be chosen by God to bear his Son. What a blessing to be the vessel of Our Lord and Savior. What a blessing to have a soul that is full of the grace of God. Mary did not go about saying, look at me. Mary obeyed God, did everything for his glory, and the good of all mankind.
Mary was selfless and holy, and it always starts with our parents. Her mother and father were considered saints also. They made sure the human part was well taken care of, so God could take care of the divine part. Jesus was human and at the same time divine. Saint Ann and Saint Joachim loved Mary first and prepared a perfect vessel for the delivery of a perfect son, in Jesus Christ.
We must too, go out in faith bearing witness to the life of Christ by our words, actions, and deeds, everywhere we go. We must proclaim God as the Father, Christ as the Son, and the love of the Holy Spirit as one. We must show everyone we meet what the foot of the cross looks like.
Deacon Peter Smith serves at St. Mary's/Holy Family Parish in Alabama, a religion teacher at Holy Family Cristo Rey Catholic High School in Birmingham, and a member of our extended Passionist Family.