Scripture: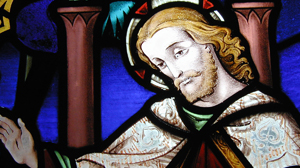 Isaiah 48:17-19
Matthew 11:16-19
Reflection:
Let us Dance to the Pipes, and Join with Compassion the Sad
I have found the continuous reading of Scripture at daily Mass an enriching way to open the treasure chest of God's Word. Smaller units in a chapter work together to show the meaning of the prophets or gospel writers.
Advent is the season when the treasure chest of God's Word is thrown open. We began with an apocalypse, reminding us of the passing world. We can imagine our early ancestors who waited in darkness expecting 'they knew not what'. And we listen to our feelings as the short days of winter are upon us, days of bleakness and for many less social interaction – it is on this darkness from the treasure chest of God's Word that a bright light shines upon us.
We have a different type of continuous reading to help us break open the Word of God. Our readings are specially chosen to guide us through the days of Advent. It is an invitation to our prayerful imaginations and an appeal to an imaginative approach to God's Word. We have so much around us these days of anticipation to fuel our prayer and bring to life God's Word.
As we approach the end of the 2nd week of Advent this Friday, we come to an end of a  journey. We began by hearing of a beautiful, safe highway, that will lead the nations together to God. Even where young men grow weary and fall, if we who hope in God we will be renewed and fly as if we had eagles' wings. We will run and not grow weary, walk and not grow tired. We hear the words of the Lord says to us, 'Fear not, I will help you'.
On this day's journey Isaiah tells us that God leads and instructs us. Vindication and prosperity in every way will be ours if we follow. But some do not follow the leader, they do not dance to the joyful music, others are not sad when a song of mourning is sung.
Our Advent journey leads each of us in new pathways where God invites us to go. God's music plays through us as did the breath of God's spirit through Mary, the hollow reed of God. We are prophets of hope serving a waiting world. We know the Lord of the Dance who came down to earth and at Bethlehem had his birth. True, one can dance alone, but God chooses not to! Father, Son and Holy Spirit are caught up in the great dance of the Mystery of Love. So, may each Christmas card, each party, each Advent prayer or work be a shared dance of hope with those with whom we share life.
In this time of joy some songs are sung in a minor key. Sorrow and suffering are with us. A beautiful poem from Medieval England says that those who die at Christmas time go immediately to heaven! Words from the middle ages, a time that sounds as if it was very hard to get in to heaven. But compassion for our brothers and sisters unable to rejoice at a Christmas time due to the sadness of death, overcomes the 'rules', and the strength and clarity that a Savior is with us moved the popular theologian in all of us in those past day to say to the sorrowing, be at peace, the Savior reigns.
Let us sing and dance as we follow God's lead on our Advent's journey.

Fr. William Murphy, CP is the pastor of Immaculate Conception parish in Jamaica, New York.