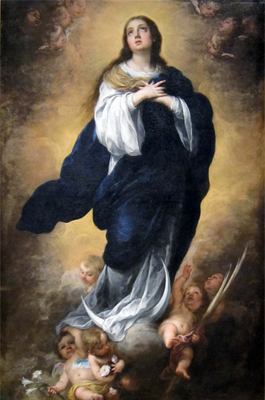 Scripture:
Genesis 3:9-15, 20
Ephesians 1:3-6, 11-12
Luke 1:26-38
Reflection:
Thoughts on Mary's Immaculate Conception
Imagine the experience of Mary being greeted by the angel Gabriel. A good translation says that Mary was utterly 'confused', terrified might also be appropriate because Gabriel responds with a strong, 'do not go on fearing'. Mary hears, 'you will conceive a son, his will be the throne of David and he will rule over the house of Jacob'. Mary, unlike Eve who acts without thinking, stops and asks, 'how can this be?' Conceiving a child, a Savior, God's action, a leader for her people. How fast could she process this incredible information? Could a lifetime of thinking about this encounter make it easier to say, 'yes'? This is the moment when God's grace is reaching out. It is the beginning of 'the irrational season when love bloomed bright and wild. Had Mary been filled with reason there would have been no room for the child'. (Madeline L'Engle).
St. Bernard stops time between the explanation of Gabriel, that the Holy Spirit will come upon Mary and the power of the Most High will overshadow her, and Mary's answer. We peek into the mind of Gabriel. The angel is frightened Mary will say no. How great is this decision placed in the hands of so young a woman? If she says 'no', God will have to start the long process of preparing for a savior all over again. In this forever moment of waiting Gabriel, the angels of heaven, Adam and Eve, all creation hold their breath as they await the word of Mary. They pray, 'Please say yes and save us!' And Mary says 'Behold the servant of the Lord. Let it happen to me as you say'.
Conceived immaculately, Mary is different than all the daughters of Eve. Mary didn't receive from her foremothers what tilts us to put ourselves ahead of God and our brothers and sisters; to think our way or the highway, our will over the one who loves infinitely. Was Mary then in the same place as Eve in the garden? Both of them knowing God as they did. Was the new Eve more like Eve than any other of the daughters of Eve? Someone has offered an interesting meaning to the words, 'Where are you?', spoken to Adam and Eve who after eating the apple hid from God. God was not asking about a geographical location, but to Adam and Eve, 'how do you feel now? Are you where you should be in our relationship? Are you where we should be together?'
Mary makes herself one with the will of God. How does that translate into her life? She brings her son into the world of the poor and will become homeless, a refugee. Mary the mother of the Savior is not just a bearer of life. Her grace is that of other mothers to guide their children and to sometimes launch them! 'Do whatever he tells you', she says to the waiters. Unwelcome in his hometown, ridiculed and rejected, Mary must have learned so much about suffering, power and forgiveness. She stands beneath the Cross and will receive her son into her arms. No one could have suffered the Passion so much as Mary because she is one with her Son, one in his suffering, in his love of the Father and all of God's children, all of God's creation.
As we celebrate Mary's Immaculate Conception God's gift to her is a gift to us all. We may be afraid of that gift. Mary will say to us, 'Do whatever he tells you'. To drink of that wine, to do His will, is the yes to love God as God wants to be loved.

Fr. William Murphy, CP is the pastor of Immaculate Conception parish in Jamaica, New York.