Scripture:
Isaiah 41:13-20
Matthew 11:11-15
Reflection:
Advent, a Mother's Love, and Juan Diego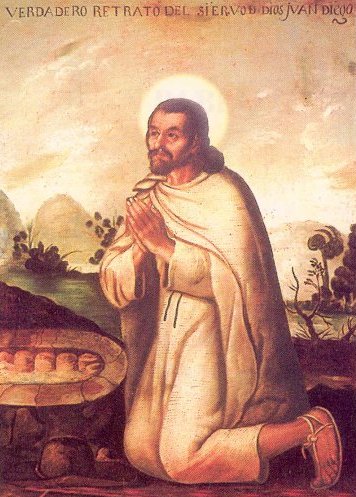 Today we celebrate the feast of Juan Diego of Mexico, "hermit". The Ordo says 'he devoted himself to the pilgrims who came to see the image of Mary on his tilma'.
I think of a hermit as one who has encountered God's love and wants nothing more than be with that love. Since love affairs can be tempestuous, the love affair of a hermit must have it ups and downs (probably off the chart?).
Pilgrims going to see the image of the Virgin of Guadalupe conger up in my imagination the crowds at the Shrine in Mexico today. Proportionately perhaps there was a crowd of people in 16th century Mexico? Who knows how many? But what did Juan Diego do as the welcomer of pilgrims? Can we describe his day as beginning in this fashion:
First, he shared with those whom he welcomed his surprise. 'She was beautiful, so gentle to me, her skin not white like the Spaniards, and she smiled, what a smile'.
I heard her say to me, "My little Juan". She knew my name. I can still hear it.
Then he shared, I was very shy! Wouldn't you be? The bishop wouldn't listen to me when I told him what the lady said to me. I was embarrassed and tried to avoid the lovely woman taking another route to visit my sick uncle. There she was. Big smile, 'My little Juan'. She put me at ease and told me my uncle was well, and he was.
She knew the bishop did not believe my story or her request. So she sent me up the hill to gather roses to take to the bishop to help him believe her. I did just that. Beautiful roses! The bishop wanted to know what I had wrapped up in my tilma so I opened it and let all the roses fall before him. And the bishop and all the priests in the room fell down before me! I said, 'what's happening'? When I saw my tilma it was covered with the picture of my friend, the most beautiful woman.
Let's go inside now and I'll show you the church the bishop built. You can see for yourselves my tilma and the picture of the Little Dark One, Mother Mary, the Mother of Jesus, that she gave us.
The Advent words of Isaias today sound like a mother's love for us: 'Take hold of my hand; don't be afraid. I will help you'. Your helper is the Holy one of Israel. The thirsty seek water in vain; their tongues are parched. I will not forsake you'. Could a mother forget the child of her womb? Oh, console my children.
The Lord did not forget his children in Mexico. How lovely that his Mother had the joy of being a mother again to so many of us! She leads us as she did Juan and the bishop to the love of her son. No wonder Juan Diego became a hermit, (except when he gave tours to pilgrims), just to savor the sound of his name of the lips of Mary, to describe again that meeting, to see in her warm, dark flesh love, and to know the love of her son that she brought as a special gift to him and to all who would listen to his story.
Father William Murphy, CP is the pastor of Immaculate Conception parish in Jamaica, New York.