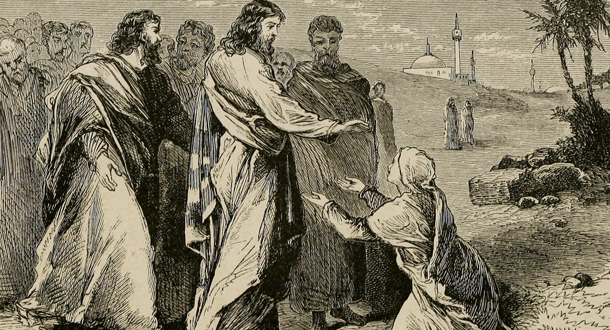 Scripture:
2 Samuel 18:9-10, 14b, 24-25a, 30-19:3
Mark 5:21-43
Reflection:
Our readings today point to some of the most painful of human sufferings. In the Old Testament reading from 2 Samuel, we hear of David's abject grief when he hears that his son Absalom has been killed in the heat of battle. Absalom was David's third son and estranged from his father, even fighting on the side of his enemies. While on horseback in the heart of battle, Absalom's long hair was caught in the branches of a tree, allowing soldiers favorable to David to kill him. When the news is brought to David he is consumed with grief, a grief all the more intense because of their alienation. David's parental lament reaches us through the ages: "My son Absalom! My son, my son Absalom! If only I had died instead of you, Absalom, my son, my son!"
Another example of terrifying parental grief is found in the gospel reading for today from Mark. A synagogue official, Jairus, comes to Jesus and falls at his feet, begging him: "My daughter is at the point of death. Please, come lay your hands on her that she may get well and live." Jesus immediately goes with the man to care for his daughter whom we later learn is only 12 years old.
On the way, there is another example of acute human suffering. A woman afflicted with chronic hemorrhaging for twelve years and having exhausted her savings on doctors, find herself near Jesus in a crowd. Even though she is frightened to take such a step, she dares to touch the tassel of Jesus' cloak, hoping this renowned healer might bring her relief. At the moment of her touch, she feels in her body she is healed! And Jesus, too, in a remarkable passage, senses that "power had gone out from him"—as if some vital force had transferred from Jesus to the woman in need. "Who had touched my clothes?" Jesus asks, leading the disciples to respond with some irony, "You see how the crowd is pressing upon you, and yet you ask, Who touched me?"
But Jesus and the woman healed recognize each other, and with fear and trembling she kneels before Jesus. He in turn comforts her: "Daughter, your faith has saved you. Go in peace and be cured of your affliction."
At this point, the gospel narrative picks up again the story of Jairus and his little daughter. They are met with words of terrible sorrow—Jairus' worst fear realized: "Your daughter has died; why trouble the teacher any longer?"
But the point of this gospel account now becomes clear. For Jesus, brimming with the power of life, the child is not "dead" but is "sleeping"—a metaphor that often appears in early Christian literature to refer to those who have died. Once again, the touch of Jesus brings abundant life. "He took the child by the hand and said to her… "Little girl, I say to you arise." And immediately she awoke and began to walk around. The story ends on a beautiful grace note—Jesus reminds her astounded parents that "she should be given something to eat."
The presence of these stories of loss, of grief, and of renewed life and healing take us into the heart of our Christian faith. God embraces us as we are—flawed, vulnerable, in need of rescue and healing. The healing touch of Jesus brings the balm of God's love into the midst of our suffering and gives us life.
Fr. Donald Senior, C.P. is President Emeritus and Professor of New Testament at Catholic Theological Union. He lives at the Passionist residence in the Hyde Park neighborhood of Chicago.