Scripture: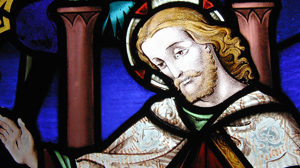 Deuteronomy 30:15-20
Luke 9:22-25
Reflection:
"Whoever loses his life for my sake will save it"
What is the one thing we have in great abundance that God wants?  Indeed, God begs us to give this one thing to him because he doesn't have it.  It is our weakness.  The Apostle Paul says it so eloquently.  "But he said to me, my grace is sufficient for you, for my power is made perfect in weakness" (2 Cor. 12:9).
Yesterday, with the simple ritual of ashes, we began our Lenten journey.  The ashes are not a sign of our holiness.  Rather, they are a symbol of our weakness.  They mean that if we want to follow Jesus, we must die to ourselves, lose our lives, our weakness, in his grace and power.  That is the journey of repentance, of metanoia.  Lent is the time to change our hearts, our minds – and our direction – in order to follow Christ.
But metanoia isn't easy.  On the contrary, we are rather skilled at disguising our weaknesses as strengths, even as virtues.   Aren't perfectionists virtuous at heart?  They're just trying to make things right, to follow the rules.  And when someone breaks a rule, they are ready to correct them, to "improve them."  It's for their own good.  But watch out.  When the rule-breaker doesn't listen, the perfectionist gets angry.  Or what's wrong with someone who wants to love and care for us?  Nothing, unless they demand love – and recognition – in return.  When they don't get it, then love becomes manipulative.  Ronald Rolheiser says those who demand that kind of love will carry our cross – and then send us the bill.
It is only when we die to ourselves and the ego that disguises our weakness for virtue, only when we lose our lives in the life of Christ that we will be truly strong.
During this Lenten season, we are invited to take up our cross.  It is the cross of our weakness.  We are called to follow Jesus.  It is the way of metanoia, when in grace we in change our direction.

Deacon Manuel Valencia is on the staff at Mater Dolorosa Passionist Retreat Center, Sierra Madre, California.