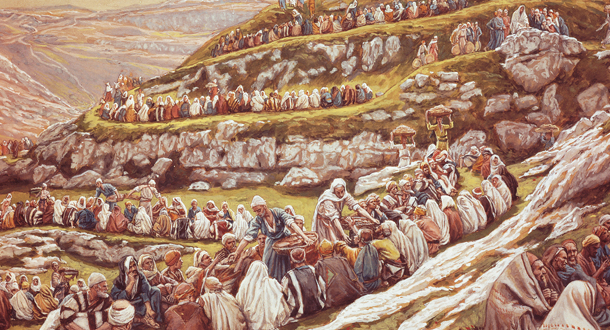 Scripture:
Reflection:
What were Jesus and his disciples to do with a large crowd in a deserted place, and very hungry after spending three days with them? There just wasn't enough bread for them.
Jesus was "moved to pity for them…If I send them away hungry to their homes, they will collapse on the way." Incidentally, in the early days of the Jesus movement, Christians were simply known as "people of the way, or on the way."
The word for collapse ("faint" in the RSV) is used elsewhere in the New Testament to mean "losing heart or getting discouraged in the faces of the struggles of the Christian life," scripture scholar Mary Healy observes in her book, "Gospel of Mark." Healy suggests the central question in today's gospel is this: "How will the disciples respond when God's people collapse or faint for lack of spiritual nourishment, and they do not have the resources to feed them?"
Something strikingly similar occurred in March 2020 with the pandemic Covid 19, including, of course, in my corner of the world in Sierra Madre, Calif. All work abruptly stopped, businesses closed, people lost jobs. The most vulnerable were the hardest hit. Funds dried up for non-profit organizations serving the poor, homeless, the elderly and homebound. There just wasn't enough bread for them, so to speak. So many of God's people surely would surely "collapse on the way" for lack of food or spiritual nourishment. How will today's disciple respond? By ignoring them? Too many people, not enough bread?
Today's gospel modeled their response. Jesus challenged his disciples to stretch their faith. In Eucharistic fashion, Jesus blessed the seven available loaves, broke them, and gave them to his disciples to distribute to the hungry crowd. Rather than distributing the loaves himself, Jesus directed his disciples to take up this ministry of service. And "they ate and were satisfied."
So too did Jesus challenge his disciples through Sierra Madre and the San Gabriel Valley.  Acting as the catalyst, the leadership of Mater Dolorosa Passionist Retreat Center coordinated its recourses with many groups and individuals.  The retreat kitchen staff used its large kitchen and equipment to cook nourishing meals.  Others generously donated money and volunteered time. Thousands of meals were prepared at the retreat.  Many others delivered them daily to organizations that serve the poor, homebound and homeless, and to many needy individual homes.  These meals nourished, not only bodies, but souls in need of hope of those on the way that looked so dark.
Not too long ago, Pope Francis was asked: "How does prayer work when people are hungry?" "You pray for the hungry," the pope responded. "Then you feed them. That's how prayer works."
The pope was echoing the words attributed to St. Augustine: "Pray as though everything depends on God. And work as though everything depends on you."
Just so.  In faith, Jesus will bless and break our seemingly meager bread.  And in faith, we are to go out and share this bread of life with all in need.
Deacon Manuel Valencia is on the staff at Mater Dolorosa Passionist Retreat Center, Sierra Madre, California.