Scripture: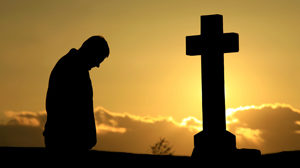 Isaiah 55:10-11
Matthew 6:7-15
Reflection:
The Lord's Prayer has a way of triggering a memory in me.  One evening a long time ago – I was about four years old – I remember sitting at a sofa of our small home, watching my mother in the living room with a basket of clothes to be ironed.  It was just my mother and me.  My dad was working a night-shift; my baby brother was asleep in his crib.  I was quietly happy watching my mother at work.  I sat mesmerized as she carefully poured water into the iron.  She pressed a button and the iron hissed clouds of steam.  This was an amazing phenomenon.  Then, she moistened her finger and gingerly touched the iron.  At her touch, it hissed again.   I was dazzled.  Before going into the kitchen, she warned me: "Don't touch the iron."
What do you think I did?  That's right.  In direct disobedience, I climbed a chair, reached for the iron – and gave it a "high-five."  My whole palm pressed against the hot iron.  Lightning bolts flashing through my brain.  I screamed and jumped about in pain.  My mother rushed in, saw what I did and quickly grabbed some salve to rub on my burning hand.  Did she scold me or punish me?  No. She was too busy relieving my pain, wiping away my tears.
I've reflected on that moment years later.  I've gained two important insights – three actually.  First, don't touch hot irons.
Second, Original Sin is a lot like what I did that evening.  As long as I remained in the realm of my mother's obedience, I was indescribably and quietly happy in her presence.  But when I decided I knew best what was good for me and disobeyed, I felt the excruciating pain, like ejection from Eden.  Does God actually punish us?  No.  We are not so much punished for our disobedience, as we are punished by our disobedience.
Third, God must be a lot like my mother.  No doubt that is why Jesus says pray this way: "Our Father," or in his Aramaic term, "Abba," that is, "Daddy" or "Papa."  He tells us that we are to love God with the intimacy a child has for its parent.   My parents knew me.  They knew my moods, my favorite dessert, and my best school subjects.  When I thought I was being sneaky, they knew that, too.  But they loved me anyway, sacrificed for me.  So too, God knows us as a parent, with all our imperfections and brokenness, our good intentions so often mixed with selfish motives.  But God loves us anyway, with tenderness beyond words.  God never stops calling us to do his will, warning us not to touch the hot iron, because he wants us to be truly happy with him.
That is why every now and then, when I pray Lord's Prayer, I remember that moment long ago when, even in my burning disobedience, was I loved and rubbed with a healing salve – the balm of salvation, and my tears wiped away.  This great Lenten Season is the time to remember that God loves us as loving parent.  That is why God insists we call him Abba.
Deacon Manuel Valencia is on the staff at Mater Dolorosa Passionist Retreat Center, Sierra Madre, California.