Scripture: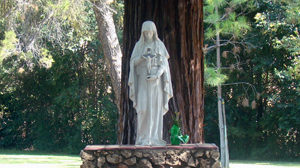 Esther C:12, 14-16, 23-25
Matthew 7:7-12
Reflection:
There are many needs in our lives and some of the deepest reside in the human heart. These are profoundly significant and universal, and are not to be satisfied by the collection of mere goods and possessions, money or fame.
Many people have all of these but lack much. Their lives can be full of 'busyness' and their houses full of 'things', but in the stillness, in moments of introspection, they discover an emptiness. This discovery can cause even more unease and spur one to even more activity and accumulation of things, but this too will be unsatisfying.
The truth, and the answer to such restlessness, lies more deeply within. Every human harbours an inner cry for meaning, belonging and authenticity. These are not always named and indeed sometimes they lie hidden from our awareness. Such deep needs often reside quietly within hardly getting any attention, but in the quieter moments of life…  those times of real need or moments of challenge or of invitation to intimacy their presence or absence can be keenly felt.
When such needs remain unmet we can often find life too overwhelming, lonely or discouraging, and thus some of our attempts to live from our best self are unsuccessful. While if we possess these gifts, then many of life's challenges and invitations can be met.
But as we know, the discovery of meaning in life, the achievement of relationships that bring with them a sense of 'home' and belong, and the development of the courage to live authentically in the midst of many temptations are not capacities easily achieved. They are gifts and qualities that must be nurtured slowly; they can't be instantly possessed or acquired in some 'quick' way. And once gained they must be cultivated; it is a life-long process.
In fact we can't do any of this by ourselves. We often need help to find the meaning of our lives; we can hardly 'belong' in a relationship unless others enter into our world to love us too; we cannot live an authentic life unless we subscribe to values that are true and good and then see witnesses that inspire us to exercise the discipline needed to be consistent in such matters.
So it is a matter or nurturing and growing such precious gifts and capacities.
As such the Lenten Season is an ideal time to review our lives in the above light. We invited by every aspect of this season – the readings, prayers and activities – to embrace renewal and to look deeply at our lives. Our Lenten journey is thus an ideal time for us to conduct a self-examination of our own journey into meaning, belonging and authenticity.
The readings today in this first Week in Lent are a great starting point for us. God's Word to us today invites us to place our trust in God – who will help us in our journey. Perhaps the heartfelt prayer of Queen Esther says it all for us… Now help me, who am alone and have no one but you, O Lord, my God.
A principal way of acting in order to achieve our goals could also be to follow the practical advice of Jesus. He states what we know as the 'golden rule', a foundational way of acting and one which is mirrored in nearly every major religion in the world – "Do to others whatever you would have them do to you". For Jesus such a way of acting and being is central to all else, it is the meaning of the law and prophets.
But it can also be the way into the discovery of true meaning, belonging and authenticity in life – which is for us to make Jesus, his message and way of life the centre of our own lives.
The Spirit will help us in this venture and so let us trust the Word to us today "Ask and it will be given to you; seek and you will find; knock and the door will be opened to you"
Fr. Denis Travers, C.P., is a member of Holy Spirit Province, Australia.  He currently serves on the General Council and is stationed in Rome.