Scripture: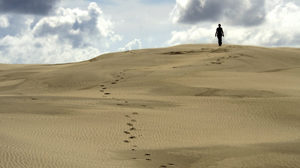 Genesis 9:8-15
1 Peter 3:18-22
Mark 1:12-15
Reflection:
Repent and follow the gospel…
 Lent is upon us, each year with the first Sunday of Lent we remember that following his baptism, Jesus enters the desert where he is tempted for 40 days.  This year we hear Mark's version.  In usual Markan form, he doesn't say much, he doesn't give us much detail – like Sargent Friday in Dragnet, Mark gives us just the facts!
 At our baptism, we became a new creation, clothed ourselves in white and accepted our mission as disciples!  Oh, that it would be that easy!  But life happens, we too are tempted, we too meet wild beasts and angels on our life journey.  We too find ourselves in the desert – for 40 days or 40 years…
But Lent is a season to journey in the desert WITH Jesus.  Lent is an opportunity to look honestly at ourselves, what are our strengths, our weaknesses; where do we succeed at our efforts to love as Jesus loved and where do we miss the mark, where do we need to 'reboot' and start over.  Often, in our efforts to look honestly at ourselves, we default to judging, criticizing, guilt and shame.  But Lent reminds us to 'take Jesus with us' Jesus doesn't judge or criticize, he simply invites us to 'name it, and claim it, and allow him to transform it'.  Lent reminds us, "to stick to the facts" and don't go down the rabbit hole of unhealthy guilt and shame.
On Ash Wednesday we were 'marked' with ashes and heard one of these two phrases:  you are dust and to dust you shall return or Repent and follow the gospel.  The kingdom of God is at hand…Lent invites us to 'let go' of whatever it is that keeps us from building the Kingdom of God.  What 'facts' does Jesus want to show you this Lent?

Faith Offman is the Associate Director of Ministry at St. Paul of the Cross Passionist Retreat and Conference Center in Detroit, Michigan.