Scripture: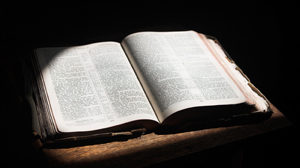 Leviticus 19:1-2, 17-18
1 Corinthians 3:16-25
Matthew 5:38-48
Reflection:
"Take no revenge and cherish no grudge against any of your people. You shall love your neighbor as yourself. I am the LORD." Leviticus 19:18
About 500 years before Jesus echoed this commandment of love in the 22nd Chapter of the Gospel according to Matthew, (Matt. 22:39) teachers of the law of holiness were teaching it in Israel.
This notion that our holiness is intimately connected with our absolute love of God and neighbor is found not only in our Christian tradition but in many other religions as well.
We believe that the reason God created us was so that we could love God and love our neighbor as we love ourselves. We have no other calling that that. That is our most fundamental vocation.
While this may sound beautiful and inspiring, it is one of the most challenging Commandments of God we are obliged to follow. This teaching was being lived and taught long before it was written down. It was written down and handed on from one generation to the next because we needed to be reminded of it often.
Many of us may not realize how much hate we carry within us until we are wronged, we feel slighted, we believe that we have been passed over unjustly, just to name a few triggers for hatred.
It is then that the human heart can weld up with hatred. For some, it begins slow, like a slow leak in a water system, so imperceptible that we tend not to notice it. For others, hatred gushes out like a tidal wave. The wall of water that busts into the scene destroys everything in its path. Once we allow ourselves to believe that we have a right to hate, to reject, to dehumanize, to ignore the other, then we can turn our backs on our brothers and sisters with the belief that the law not only allows us to do so, but demands that we do so.
It takes an act of faith for us to love God with our whole heart and to love our neighbor as ourselves. We have to overcome our initial tendencies to hate. We also need to recognize that hatred has many disguises, many masks and may take many acceptable forms of behavior.
St. Paul writes in the second reading for today's Mass: "Let no one deceive himself. If anyone among you considers himself wise in this age, let him become a fool, so as to become wise. For the wisdom of this world is foolishness in the eyes of God." I Cor. 13: 18-19 The wise of this world, whether they live here or elsewhere, believe that they can lie without consequence, and believe that most people are just like them. Thus, they have a right to make human laws that dehumanize and are destructive of God's children.
Today's Gospel concludes Jesus' famous Sermon on the Mount, which began with the Beatitudes. This Sermon concludes by quoting the wise people of his time, "You have heard it said. . .," and then goes on to say, "But I say unto you. . ."
Who are we going to believe? Who are we going to follow? Just as there is no room for hatred in God and in Jesus' Heart, we are called to love unconditionally and wholeheartedly. God created us in God's own image and likeness. When we love like God loves, we become perfect as our Heavenly Father is perfect! (Matt. 5:48)

Fr. Clemente Barrón, C.P. is a member of Christ the King Community in Citrus Heights, California.