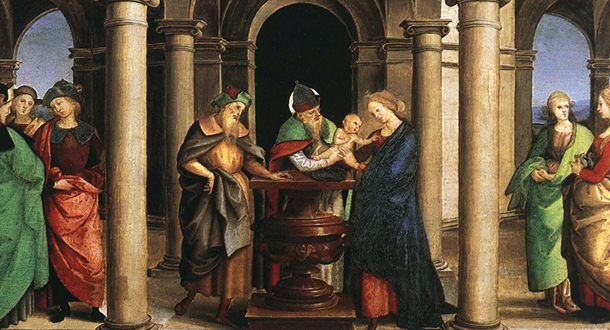 Feast of the Presentation of the Lord
Scripture:
Malachi 3:1-4
Hebrews 2: 14-18
Luke 2:22-40 or 2:22-32
Reflection:
Surely he did not help angels but rather the descendants of Abraham; therefore, he had to become like his brothers and sisters in every way… Hebrews 2:16-17
This Feast of the Presentation, forty days after Christmas, has been the traditional close of the Christmas season. When I listened to the stories around Jesus' birth and infancy this year, I was struck by the humility and vulnerability of the Holy Family when Jesus "became like his brothers and sisters in every way" (today's second reading from Hebrews) .
In today's Gospel, we find Mary, Joseph and Jesus in the temple in Jerusalem practicing the ancient customs of Mary's purification after childbirth, and Jesus' presentation: the offering of the first-born son. Even though Mary was told by the angel that she was "full of grace" when he presented her with her special vocation, she still went to be purified. And she and Joseph took Jesus to offer him to God, even though he came from God. Mary and Joseph, observant Jews that they were, humbly complied with the law of Moses and performed the rituals.
Since they could not afford a sheep, Mary and Joseph gave the offering of the poor: two turtledoves and two young pigeons. This is a reminder of their precarious circumstances: the stable birth, Jesus' escape from the murderous Herod, and their flight into Egypt. The Incarnation means literally to "take on flesh". Jesus in taking on flesh, fully entered into our vulnerable human condition and "became like his brothers and sisters in every way".
In our American culture, success is often seen as being ever more prosperous, influential, and in control. The Holy Family shows us a different way: humbly trusting in the Holy Spirit to lead our lives. With each Christmas season that passes, may this countercultural message sink in more!
Patty Gillis is a retired Pastoral Minister. She served on the Board of Directors at St. Paul of the Cross Passionist Retreat and Conference Center in Detroit. She is currently a member of the Laudato Si Vision Fulfillment Team and the Passionist Solidarity Network.