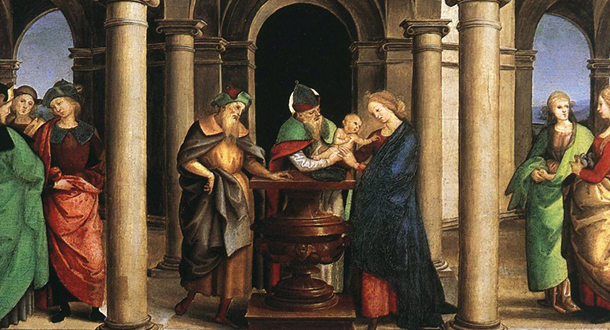 Feast of the Presentation of the Lord
Scripture:
Malachi 3:1-4
Hebrews 2:14-18
Luke 2: 22-40
Reflection:
People who have helped me grow the most have been very blunt with me about my shortcomings; and they have challenged me to do things I never thought I could do. They had difficult conversations with me because they loved me and they believed in me. I now realize that some of these people were modern day prophets.
We hear from three prophets in today's readings: the prophet in Malachi, and Simeon and Anna in the Gospel of Luke. The prophet in Malachi delivered scathing speeches decrying the sins of the people, terrible sins like selling the poor into slavery. And then he reassures the people of his love for them and God's love for them as well.
The vocation of prophet is often difficult, confronting people with a message they don't want to hear. Many prophets were killed. Prophets see things as God sees them, and love as God does—they feel the suffering and misery of their people. They speak the truth and take the consequences. Why do they do it?
Dominican priest Albert Nolan spoke against apartheid for decades in South Africa, alongside fellow prophets Bishop Desmond Tutu and Nelson Mandela. Fr. Nolan says prophets experience not only a special calling from God, but also a special closeness to God that enables them to understand God's "feelings" and "thoughts" about what is happening or will happen in the future. It is this mystical experience of union with God that enables them to speak on God's behalf.
In today's Gospel, when Joseph and Mary take Jesus to the temple to be consecrated to God, they meet two prophetic people, Simeon and Anna, who are very close to God. We read in Luke's Gospel that Simeon was "righteous and devout, awaiting the consolation of Israel, and the Holy Spirit was upon him." We are told that Anna was a longtime widow who "never left the temple, but worshiped night and day with fasting and prayer." Simeon and Anna's close union with God enabled them to recognize Jesus when they met him, and to joyfully and prophetically announce Jesus' mission to the people.
Today we pray to the Holy Spirit for the gift of prophecy, so, like Simeon and Anna we will recognize Jesus in our midst, sometimes in unusual circumstances. We pray for eyes to see, and hearts to understand the signs of our times as God sees them. We pray for the courage to prophetically speak up, like the prophet in Malachi, when we see injustice that offends the heart of God, and for the courage to take the consequences.
Patty Gillis is a retired Pastoral Minister. She served on the Board of Directors at St. Paul of the Cross Passionist Retreat and Conference Center in Detroit. She is currently a member of the Laudato Si Vision Fulfillment Team and the Passionist Solidarity Network.