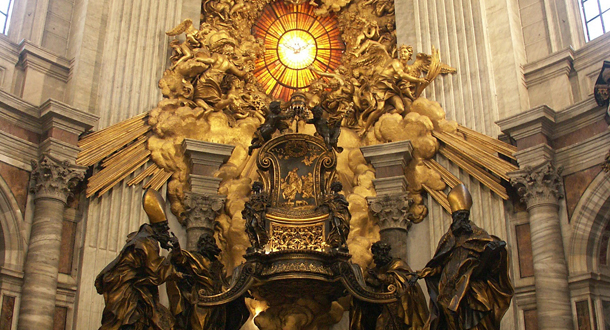 Feast of the Chair of St. Peter the Apostle
Scripture:
Reflection:
So much of today's readings reference shepherding. Psalm 23, with its familiar and comforting words, reassures us of God's love and protection. The Chair of St Peter symbolizes Christ's intention to provide His church with His own earthly successors, shepherds of His flock, a rock so strong in faith that it will withstand "the gates of the netherworld", that is, Satan and his evilest works.
"Thou art Peter, and upon this rock I will build my church". Christ used the conversant Syrian language including the word "Cephas," leaving no doubt of His purpose in renaming Simon. Peter is the rock, and the Church is our faith, which he and his successors defend and protect ~ shepherding Christ's church from all that Satan mounts against it. Peter's understanding of Jesus is from Devine revelation, which Christ immediately marks as His Father's selection of Peter as the next shepherd of our Church. "What you bind on earth shall be bound in Heaven". With these words Our Lord provides for the succession of shepherds who will follow Peter through the centuries.
All vision is parochial and the crosses we bear today are only different from those suffered by those who came before us because of our view of the difficulties. The pandemic, the sexual abuse scandal, the embezzlement of church funds, the loss of faith of so many this century, all these catastrophes have been weathered by our Church before. Our faith is in our Shepherd, placing our trust in Our Lord and His promise that nothing evil will prevail over His goodness, mercy and love. Just for today I will trust in God and lay my concerns in His hands.
Ray Alonzo is the father of three children, grandfather of two, and husband to Jan for 45 years. He is a USN Vietnam Veteran, and a 1969 graduate of Mother of Good Counsel Passionist Prep Seminary. Ray currently serves on the Passionist Alumni Council.