Scripture: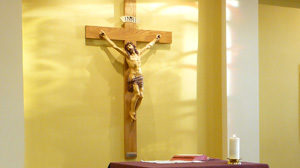 Reflection:
Behold the Lamb of God
Every Mass we attend we hear the words: "Behold the Lamb of God".   Gaze at Jesus who shows us the wounds in His Risen Body, his hands, feet and side!  "For God so loved the world, that He gave His only begotten Son!" John 3:16   On July 19, 586 BC the city of Jerusalem was destroyed by the Babylonian army.  Jerusalem's King Zedekiah who was brought before Nebuchadnezzar and was forced to see his young children slaughtered before his eyes so there would be no claimants to the throne.  Then he was blinded so the last thing he saw on earth was the horrible murder of his children.
Can we begin to understand how the Father of Jesus felt to see His Son mocked, struck and spit upon in His passion?   How could any parent stand such a sight.   "Behold the Lamb of God"   At Mass we should be transfixed at the spell bounding love of the crucified.  If only we could see the Lamb of God the way the Father in Heaven saw His Son on the Cross!   To behold the Lamb of God means we encounter the Bread which " is My Body, the one being given for you" Lk 22:19   "The Eucharist is indelibly marked by the event of the Lord's passion and death, of which it is not only a reminder but the sacramental re-presentation. It is the sacrifice of the Cross perpetuated down the ages".  Sacrosanctum Concilium, 47
These beautiful words of Christ contain the profound mystery of the Mass. The Eucharist is the Body of Christ in the state of being given right now in real time for us!   The Risen Christ exists in an eternal now.  He is no longer restricted by the limitations of time.  The Eucharist contains all the moments of the life of Christ.  They are not repeated but are preserved in a living eternal now in His Resurrection! When we are invited at Mass to behold the Lamb of God we are reminded of the words of Pope St John Paul II "I would like to rekindle this Eucharistic "amazement
The Mass contains the most fascinating act of love that a human heart ever had for the Father!  "For the most holy Eucharist contains the Church's entire spiritual wealth: Christ himself, our Passover and living bread."  " Consequently the gaze of the Church is constantly turned to her Lord, present in the Sacrament of the Altar, in which she discovers the full manifestation of his boundless love."   Ecclesia de Eucharistia, St John Paul #1
Fr. Bob Weiss, C.P. preaches Parish Missions and is a member of the Passionist Community in Louisville, Kentucky.