Scripture: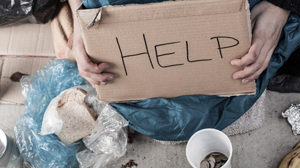 Isaiah 49:14-15
1 Corinthians 4:1-5
Matthew 6:24-34
Reflection:
The entire first reading from the Prophet Isaiah is worth repeating for they are some of the most tender words found in scripture.
Zion said, "The LORD has forsaken me;
my LORD has forgotten me."
Can a mother forget her infant,
be without tenderness for the child of her womb?
Even should she forget,
I will never forget you.
 There are so many people across the socio-economic spectrum feeling they are forgotten. The frustration is real and bubbling over. We see it in the news and in the protests. It is at the root of the opioid epidemic. We see it in regrettable language and graffiti aimed to hurt others. The factory worker now unemployed. The  immigrant family learning a new culture. The volunteer defending life against abortion and the death penalty. The student buried under the weight of debt. Families threatened by separation. Children feeling as outcasts in their own families.
There is a whole community of those feeling forgotten standing at the foot of the Cross. And what does the Lord say to them – say to us? "I will never forget you."
I often think that the Lord might well have added one more line to this passage: "I will never forget you…and you should not forget them either."  How will those feeling forgotten and forsaken ever know the love and mercy of Christ if not through us? It is our hands, our eyes, our kind words that will assure others that they are not forgotten by God. Let us take a look around us today and in a simple gesture say to someone, "I have not forgotten you."

Robert Hotz is a consultant with American City Bureau, Inc. and was the Director of The Passion of Christ: The Love That Compels Campaign for Holy Cross Province.