Scripture: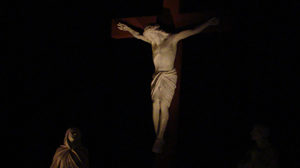 Reflection:
In the first reading, Solomon asked God for "an understanding heart to judge your people and to distinguish right from wrong." (1 Kings 3:9) If you could have anything in the world, what would you ask for? Solomon showed such great wisdom with his request! I think most leaders today would ask for more power, wealth or territory.
In these tumultuous times, we need leaders who have understanding and compassionate hearts to govern wisely and to care for the least among us. We also need the world to realize that there is such a thing as right and wrong. Moral relativism is killing us. I hear this statement way too often: "Well, I'd never do that but I can't say someone else shouldn't do it."
Aren't we just like the "sheep without a shepherd" Jesus was talking about in today's Gospel? The Good News is that Jesus was "moved with pity" for them. As Christians, we too need to be moved with pity for those who are lost and don't know Jesus. We need to pray for our world, for our countries, for our family, friends, neighbors, and for the strangers among us. We need prayer warriors!
One of the treasures we have as Catholics is the Chaplet of Divine Mercy. Jim and I joined a little group at our parish that meets four times a week to pray the rosary. On Tuesdays, we pray the Chaplet. "For the sake of His sorrowful passion, have mercy on us and on the whole world." Such a simple prayer, but so powerful! Jesus wants to flood our world with his love and mercy, and He needs us to be his instruments.
Thank you Lord for all those who intercede for our world, especially our vowed religious, who have sacrificed so much to follow You. May we all, empowered by our times of prayer with You, become joyful, loving, compassionate witnesses of your life-giving love.
Janice Carleton and her husband Jim live in Bainbridge Island, Washington,  and partner with Passionist Fr. Cedric Pisegna in Fr. Cedric Ministries. She is the mother of 4 grown children and grandmother of 6. Janice also leads women's retreats and recently published her second book: God IS with Us. Visit Janice's website at http://www.janicecarleton.com/ or email her at [email protected].