Scripture: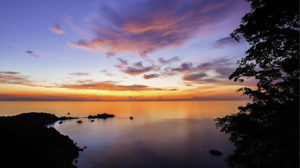 Job 7:1-4,6-7
1 Corinthians 9:16-19,22-23
Mark 1:29-39
Reflection:
No Rest for the Good…
Today's Gospel selection from Mark has a very unique "mother-n-law" story.  Peter was worried about his mother-in-law, bedridden with a serious fever – perhaps like the current flu outbreak in the U.S.  Jesus is told of her condition, and He comes, takes her by the hand and helps her from her bed – and she's healed!  But, surprisingly she begins to wait on Jesus and His disciples who were likely hungry (and perhaps road-worn) young adults.  No rest for her!  She mirrored Jesus generous, outgoing spirit in her "waiting on them".
The Gospel narrative continues the story with Jesus again being called upon to heal the crowds that came to the door…people who were physically ill, some even possessed by demons.  And He healed them!  No rest for Him!  Rising early the next day, Jesus senses the need to get away and pray, perhaps to further ponder the physical and human suffering which He witnessed and was constantly being called upon to heal.  Still, "no rest for the good"; Simon looks for Jesus and tells Him that even more people are looking for Him and His healing love.  Jesus responds by saying He needs to move on and preach in the nearby villages…His mission.  No rest for the good!  Jesus generously ministers God's gracious love!
Saint Paul in the reading from his 1st letter to the Corinthians notes that his missionary work comes from stewardship of God's love shared with him.  His sense of duty compels him to generously proclaim the Good News of Jesus; "woe to me if I do not preach it!" "…to save at least some." No rest for the good:  Paul generously ministers God's gracious love.
Thus, the Question:  As believers, how do we reflect the generous spirit of Jesus?  How do we spread the Good News in our day?  By virtue of our Baptism, we each have a vocation (married, single, priestly/religious) which is further focused in the talents and direction we've given our lives (e.g. parent, teacher, manager, professional person, student, health care worker, etc.).  How do we witness God's Love, Life, Joy in our world of violence and fear, of poverty and loneliness, of mistrust and selfishness?  The needs are great; our resources seem limited; and, often…no rest for the good!  Jesus says:  let's go!
We are to be grateful for our faith — however vibrant it is.  Following Jesus' example and serving in His Name, God's healing, transforming and exciting Love and Life transforms all of creation.  Our Super Bowl weekend cheer:  "Praise God, for God is good!" (Psalm 147)

Fr. John Schork, C.P. is a member of the Passionist community in Chicago, Illinois.