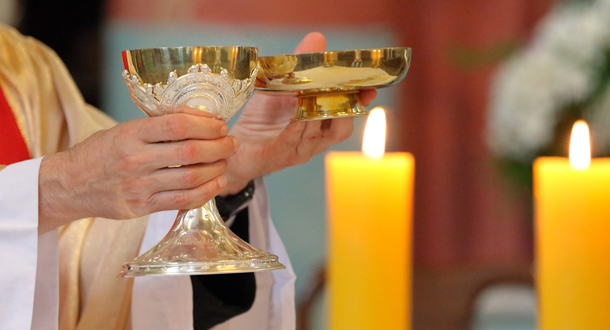 Scripture:
Reflection:
Take Courage…God Provides!
Life in all its glory continues on…post Super Bowl LIII…post yesterday's World Celebration of Consecrated Life (thank God for our Passionist Family!).  God continues to lovingly act on our behalf, helping us fully participate in the "SuperBowl" of life, making the most of the opportunities and challenges presented us.
Today's Scripture selections highlight the variety of challenges faced by some of our ancestors in the faith.  The Letter to the Hebrews continues its encouragement of God's people who had lost heart and were dealing with a spiritual lethargy.  The author calls on the well=known heroes of the past and all they had endured for the Lord – all to help "boost" morale for the letter's recipients…faith does make a difference!  Our Gospel selection from Mark 5 relates the story of Jesus healing the strong and fearsome Gerasene demoniac…a vivid display of Jesus' loving determination to help the possessed man, and the people's resulting awe and fear at Jesus' power.  We see that problems and possession were faced with faith in God who lovingly and at times powerfully provides for the needs of His children.
Our challenges may not be as gut-wrenching or deflating as those related in today's readings.  And yet we are asked to draw daily doses of strength, enthusiasm and perseverance from our faith in Jesus.  Our "demons" may be laziness, prejudice, a loose tongue, addictive behavior, selfishness…and Jesus meets us in daily life and helps rid us of the demons by his love and power.  We have no reason to fear and are encouraged to boldly share the Good News of Jesus transforming love.  Are you ready?
As 21st Century women and men of faith, may we personally experience Jesus' healing touch – and then follow His directive: "Go home to your family and announce to them all that the Lord in his pity has done for you."  We have every reason to take courage — and love the Lord in thought, word, and deed!

Fr. John Schork, C.P. is a member of the Passionist community in Chicago, Illinois.