Scripture: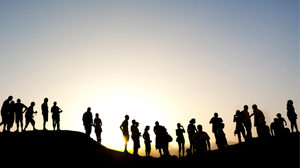 1 Kings, 8: 1-7, 9-13
Mark 6:53-56
Reflection:
I am a visual person so when I read scripture, I like to picture what is being described.  Thus in today's Gospel, when I hear Mark talk about people coming to Jesus to be healed, I can see scores of people walking over the hills of the countryside.  They gather at the market place and anywhere Jesus visits. They have heard that Jesus of Nazareth is healing people with incurable diseases-lepers, the blind and deaf, the lame and those possessed.  Here they come, limping or being carried.  Here they come thinking maybe if I just get close enough to touch his clothes, I might be cured.   And as these people come over the hills, approaching Jesus, what does He do?  Does he turn and run?  Does he tell his Apostles to disperse the crowd?  Does he disguise himself or try to avoid the masses of people?  Those might all be logical responses.  But no, Jesus turns to the people with love and compassion.  Perhaps he asks himself, how can I turn them away, they are so much in need.  So he cures them.  We are told, "as many as touched it [the tassel of his cloak] were healed."  This is Jesus, Jesus who also loves us, who came to save us.
We live in a different day and time, and it is hard to imagine this scene taking place in our world.  But imagine this, what if for a 24-hour period, anyone who needed the healing of heart and soul could reach out and be cured.  This is, in fact, our reality.  On March 4 and 5, around the world, the Sacrament of Penance will be offered continually for 24 hours!  Parishes will open their doors, offer opportunities for Adoration and prayer, and extend the healing and forgiving power of Christ to all.   We should be able to see people streaming over the hills, coming by car, bike or on foot.  We should hear people saying; "maybe if I just touch the tassel of his cloak, if I just receive Christ's forgiveness, given by the priest, maybe my soul will be healed."  As we continue in this year of Mercy, to bring God's mercy to others, let us take the time to reach out to Jesus who loves us, who came to save us.  And Jesus will say, how can I turn them away, they are so much in need.
Will you be in that crowd, coming over the hill, looking for Jesus' healing touch?

Mary Lou Butler is a long-time friend and partner in ministry to the Passionists in California.