Scripture: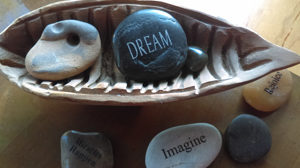 Reflection:
Perhaps there are many parents of young families who will readily identify with the need to 'escape' the daily demands of children even if for only a moment! Perhaps too there are numerous workers who will also resonate with the need to step aside from the hustle and bustle of daily pressures of the workplace and seek out a moment of solace.
At times I can truly envy a culture like that of Italy where many people actually stop in the middle of the day to rest and take 'un riposo' in the early afternoon. Even employees too far from their house to go home for such a rest, manage to sit quietly in a piazza sipping coffee and reading for an hour or two. Of course most then make up for this time by working till later in the day (with many families only eating their evening meal around 8pm).
But it is the idea of 'rest' that we might notice as we begin to contemplate today's gospel. Jesus lived a public life and as such knew from time to time the need to step aside and rest awhile – a value he prescribed for his followers too.
However, today his plan is interrupted. Again it may be that only parents can connect with the desperation that drives this woman to invade the space and quiet that Jesus has sought. Her daughter is ill, and her love compels her to act unashamedly. She appeals and perseveres in her appeal even rebutting the responses that Jesus first says to her. Nevertheless she is undaunted and wins not only Jesus attention and admiration but also his help. He intervenes for her – even at a distance – and brings about recovery and new life for her daughter.
We might also notice the contrast between Solomon's story in our first reading and that of the Syrophoenician woman in the gospel.  Here we have a telling contrast between a heart that is turned away from the Lord and one that is turning towards the Lord. Solomon with all his wisdom and a life history of a relationship with God experiences a time of weakness and falls away from God. In contrast a woman who represents a group who were not Jews turns to Jesus and presumes a favour from him.
Leaving the dialogue aside for a moment, let us simply notice the movement – to present oneself humbly and courageously to the Lord in all our joys and sorrows, in our rejoicing and in our times of need – it is one for us to imitate.
We are called to confidently approach Jesus at any and all times of need in our lives and to humbly and trustingly place our faith in his love for us and his desire to reach out to all men and women regardless of their situations. One does not have to be in a formal or organised group to be in relationship with Jesus. It is enough to desire his company and help and he will hear our cries.

Fr. Denis Travers, C.P., is a member of Holy Spirit Province, Australia.  He currently serves on the General Council and is stationed in Rome.