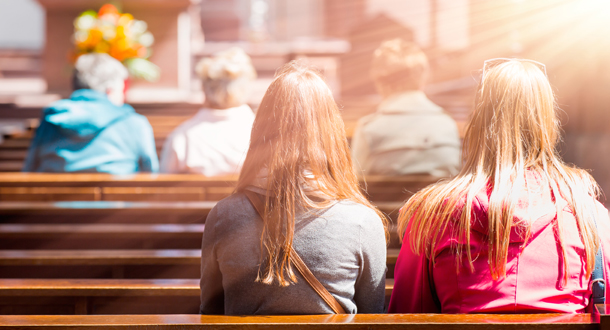 Scripture:
Reflection:
More Than a Woman's Intuition
We meet two women in our readings today. We know the first not by name yet, but more in the marrow in our bones. The Syro-Phoenician woman we know just enough to admire.
An unknown commentary on Genesis that says after God created woman, God said to her, "Let's not awaken Adam yet. Let's you and I go for a walk in the garden". The reflection ends when the woman seeing her reflection in some water, asks God, "What is that"? God replies "it is a reflection that will disappear when you leave, so now is the time to wake Adam from his sleep. "You will see in his love for you who you truly are, and Adam will come to know who he is in your love for him". Powerful to think about what our love can do for another, our part in the ongoing creation of one another.
The commentary does not tell us what God said to the woman. It is left then to our imagination. For sure it was part of the creation process, this moment when the woman is most in the image of God. No woman would ever be more God-like, God in the feminine, and is making her in this divine image. She is made, filled with this image of God! All of her daughters will share that, at least bits and pieces, but perhaps none can share what she shared so fully at that moment of her creation.
In the territory of the gentiles, Jesus looks for privacy. His reputation preceded him. "Right away upon hearing about him", (as one translation puts it), a desperate woman falls at Jesus' feet requesting a cure. Her daughter has a demon. She begs. Some say she is a woman of means; her daughter has a bed! Where is her husband? He may be working and she just chances to be where Jesus is. Does her freedom to invade Jesus' privacy comes from her privilege or her personality or what else? Faith is not mentioned, but love is clear. The more so if she is a woman used to getting her own way and unused to being told "no." What a humiliation.
Jesus knew the book of Genesis pondering the loving act of God bringing us to be. Jesus, one with the Father, knows the fullness of love given to the woman at the moment of her creation. Could Jesus have seen this gift of love passed on by the woman to her daughters in the Syro-Phoenician woman making a beeline for his feet? He knew she was a woman of love. Jesus could see and feel her words before they came to her lips.
Did Jesus know many gentiles? Perhaps not? His culture kept them at a distance, there was prejudice and disdain. Did the Syro-Phoenician woman play a part in the ongoing creation of the heart of Jesus, helping him to know and love those who did not know the Father? Jesus who brought food to the children of Israel will soon break bread for the gentiles on a hillside near the lake. Wouldn't it have been something if the woman was in the crowd? Maybe her husband and daughter accompanying her? Jesus knew what God at creation saw in the first woman, that divine image created to love. And Jesus saw that beautiful image hidden behind prejudice, human limitations, and heart hardness. She helped Jesus show all of us how we are to love.
She reminds us that while not given the opportunity of the first woman, no daughter of that woman lacks the gift of the privilege of her unique sharing of God in whose image she is created. None of us heard the conversation between God and the first woman. But I bet every woman has an insight into what was shared that no man can know.
Fr. William Murphy, CP is a member of Immaculate Conception Community in Jamaica, New York.