Scripture: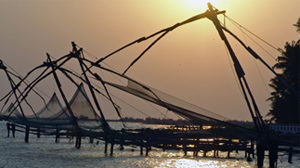 Reflection:
Immediately they left their nets and followed Jesus.
What does it mean to follow Jesus?
Peter and his brother Andrew left their nets behind and followed Jesus.  James and his brother John not only left their nets behind, they left their father, to follow Jesus.  They gave up their security of home and income.  They left behind their old lives to follow Jesus into a risky venture.  In the process, they stumbled and fell into the mud over and over.
Knowing that, are we ready to give up our nets? I, for one, have tried to be practical about this call to discipleship.  I've told myself it makes no sense to leave my nets behind.  I can follow Jesus and still carry my nets with me, or more accurately. wrap myself in my nets, like a shawl or security blanket.  But the trouble is that those nets become heavier as I try to follow Jesus.  My feet get tangled in those nets.  Like the first disciples, I stumble and fall, over and over.
But then, repentance– metanoia, change of heart and direction–was never meant to be easy.  What, then, is Jesus asking us to leave behind?  Could it be those nets of insecurity and our need to be in control? Or of self-doubt and inadequacy about how we can even respond to God's call.  There are so many nets we clutch.  Nets of anger, inability to forgive, to forgive ourselves as well as others.  Could it be any net that separates us from the love of God?
Nevertheless, Jesus calls us over and over again.  And therein may lie the Good News.  Jesus calls us to be his disciples, not because we are perfect, but because we are weak.  We are called not to run away from ourselves, but rather to enter more deeply into who we truly are — sons and daughters of God, created in his image;  that just as Jesus humbled himself to share in our humanity, he calls us to share in his divinity.  That is Good News worth believing, worth sharing.

Deacon Manuel Valencia is on the staff at Mater Dolorosa Passionist Retreat Center, Sierra Madre, California.