Scripture: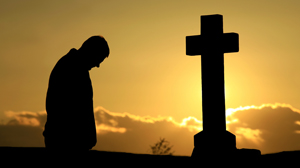 Reflection:
After his stunning display of preaching, banishing unclean spirits and healing the sick, there is a note of simplicity and humility in Jesus rising before dawn, going off to a deserted place to pray.  He sought silence and solitude.  He sought intimate communion with God, to be alone with the Father.
But, in typical fashion, Simon and the others went running here and there, looking for Jesus – and with some impatience.  Didn't he realize the crowds were clamoring for him?  Didn't he know how popular he now was?  Didn't he know he's a superstar?
Jesus, however, has a radically different sense of himself and his purpose.  It has nothing to do with popularity, with the expectations of others or being puffed with self-importance.  From the depths of his silence and solitude, Jesus had a clear self-understanding of his purpose and mission.
"Let us go on to the nearby villages that I may preach there also," he told them.  "For this purpose have I come."
Proclaiming the Good News of the Kingdom is central to Jesus' mission.  All that he does, all that he is, must be in harmony with the Good News.  But this mission is not that of Jesus alone.  "Let us go," Jesus says.  He is including his disciples – us – in his mission.
It follows then that if we are to keep our priorities in order, we must imitate Jesus.  We too must find our deserted place to be alone in prayer with our Father.  We too need silence and solitude if we are to hear the soft whisper of God voice speaking us, inviting us to seek conformity to his will.
Whatever the mission God has in store for us, it always begins in a deserted place, in silence in solitude.

Deacon Manuel Valencia is on the staff at Mater Dolorosa Passionist Retreat Center, Sierra Madre, California.