Scripture: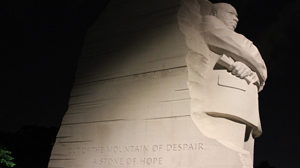 1 Samuel 8:4-7, 10-22a
Mark 2:1-12
Reflection:
The Way of the Cross According to Dr. Martin Luther King, Jr.
I submit that the life-motif of Dr. Martin Luther King, Jr. has significance for those who embrace the Passionist charism of St. Paul of the Cross. First, "embracing" the charism includes these essentials:
Contemplating, "being" at the foot of the Cross of our Lord Jesus Christ;
Being attentive to the signs of the times pointing to the contemporary Passion, through immersion in the life of our people, dialogue with our own communities, and with those experiencing the contemporary crucifixion at the hands of unjust societies; and
To preach, teach, and model a Christ-centered community, and serve others, inspired by that which we have seen and heard.
Dr. King embraced his "way of the Cross" by strictly abiding by the tenets of non-violence with roots in the two Great Commandments, and he did so for the sake of the poor of every race, and in the face of great opposition, especially from the Black Community.
In February, 1957, in Montgomery, Alabama he spoke to a mass meeting with these words: "If we as a people had as much religion in our hearts as we have in our legs and feet, (referring to the rousing hymns which had precluded his speech) we could change this world." And later that evening, "Our use of passive resistance in Montgomery is not based on resistance to get rights for ourselves, but to achieve friendship with the men (sic) who are denying us our rights and change them through friendship and a bond of Christian understanding before God." (Let The Trumpet Sound, The Life of Martin Luther King, Jr, Stephen B. Oates, New American Library, 1982, p. 115)
In conclusion, Dr. King's "Passion narrative" would be dramatically shared in the last speech that he would give on the evening of April 3, at the Sanitation Workers' rally at the Masons' Temple in downtown Memphis. After recalling some close encounters with death, he continued:
" Now it doesn't matter. It really doesn't matter what happens now. I don't know what will happen, no. We've got some difficult days ahead. But it really doesn't matter with me now . Because I've been to the mountaintop. Like I'm not concerned about that now. I just want to do God's will. And He's allowed me to go up to the mountain. And I've looked over. And I've seen the Promised land. And I may not get there with you. But I want you to know tonight that we as a people will get to the Promised Land. So I'm happy tonight. I am not worried about anything. I'm not fearing any man. Mine eyes have seen the glory of the coming of the Lord. I have a dream this afternoon that the brotherhood of man will become a reality. With this faith, I will go out and carve a tunnel of hope from a mountain of despair. With this faith, we will be able to achieve this new day. When all of God' s children – black men and white men, Jews and Gentiles, Protestants and Catholics –will be able to join hands and sing with the Negroes in the spiritual of old "'Free at last! Free at last!' Thank God Almighty, we are free at last." (Ibid., pp.485-486)
Let's pause today to consider this man's "way of the cross" as an inspiration for our own. Our General V. Rev. Joachim Rego, C.P. reminds us "to review and renew  our commitment and vocation to keep alive the memory of the Passion of Jesus as the greatest act of God's love and mercy, and to promote this memory in the lives and hearts of the people today…" especially those who are poor and neglected; we seek to offer them comfort and to relieve the burden of their sorrow." (Const. #3)

Fr. Alex Steinmiller, C.P., is the administrator at Our Lady of Lourdes Catholic Church in Birmingham, Alabama.