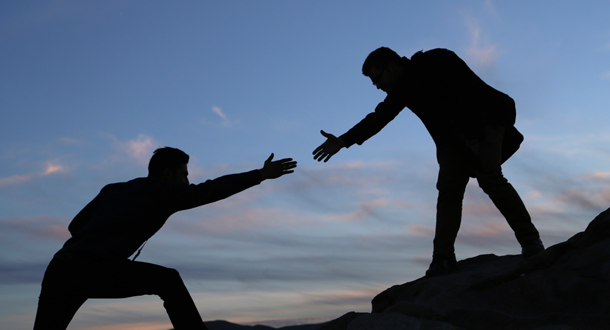 Scripture:
Reflection:
Whenever I hear this Gospel being proclaimed, I am reminded of our trip to the Holy Land and the Basilica of the Nativity in Nazareth. The Basilica is built over Peter's house, or at least what was thought to be the original house of Peter. Our guide suggested that archaeologists suspected this to be Peter's house as there was an outer layer build around it. It also had religious writings and drawings signifying that it was a special and revered place in early Christian times. What struck me as we looked over the glass floor into the space of the house was that Jesus' very physical presence may have stood there The space where Peter's mother-in-law was healed, not to mention the place where he healed and performed miracles for the people of the town. I have often wondered about my reaction—my excitement. Just to think that I was standing in a spot where Jesus may have stood so many years ago was such an unexpected and moving experience for me. Why would I be touched by the fact of Jesus' physical presence when as a Catholic I am free to consume the real presence of Jesus at any time? Perhaps our experience of Jesus is not limited to a few senses but is like a facet encompassing all our senses. We must always be open to surprises.
Paul in his letter to the Hebrews suggests the physical nature of Jesus as the Incarnation of the Word in blood and Flesh, who identifies with us as human beings. So, we identify with a human Jesus who can offer help. He does this by simply approaching and grasping the hand of Peter's mother-in-law.
Come morning, following prayer, Jesus was moving on to the rest of the villages as Peter searched him out. In the Gospel of Mark, Jesus is always moving swiftly towards Jerusalem. "For this purpose, I have come." echoes the words of our psalm, "The Lord remembers his covenant forever." How wonderful to imagine that desire to heal, touch, and preach the good news to all humanity was real to Jesus.
Today, it is our turn to bring the healing presence of Jesus into our world. It is our turn to be Christ to others by our baptism—our Christening. Especially today amid so much suffering as a result of Covid-19. Is there anything you can do for a neighbor? A smile, a greeting, a soft word of encouragement.
We must take our cue from Jesus' words and press on. We must never forget that we too, must be instruments of that same purpose. The Lord remembers his covenant forever. May we walk robustly into this day with the love of Christ to fulfill his purpose. Amen.
Jean Bowler is a retreatant at Mater Dolorosa Passionist Retreat Center in Sierra Madre, California, and a member of the Office of Mission Effectiveness Board of Holy Cross Province.