Scripture: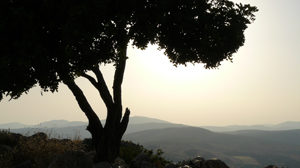 1 Samuel 8:4-7, 10-22a
Mark 2: 1-12
Reflection:
The world can be a scary place. It is true today as it was four thousand years ago in the time of Samuel the prophet. The Hebrew people had occupied the Promised Land, more or less. They were united in language and in their shared experience of the God of Abraham, Isaac, and Jacob. But they lived in separate clans, on both sides of the Jordan River away from the Mediterranean Sea.  The coast was still controlled by the Canaanites. To the southwest was the powerful kingdom of Egypt and to the north and east the ancient civilization of the Sumerians. For two hundred years the Hebrews maintained their freedom, uniting temporarily under a "judge", a tribal chief who had the ability to lead in war. This ad hoc arrangement was deemed unsatisfactory by thoughtful men, the elders, who come to Samuel to ask for a king.
What does God think of civil authority and power? Obviously the writer of first Samuel had his concerns. Civil power and authority can be abused and given human nature probably will be. Our text has the Lord almost reluctantly saying: "Grant their request and appoint a king to rule them".
2016 is an election year for us in the United States. The question of leadership is on the minds of Americans. In prayerful reflection each of us in conscience will participate in primaries and then in the November general election to choose a president for the next four years. Like the Hebrews four thousand years ago, it is important for us and the world that we choose well.
Fr. Michael Hoolahan, C.P. is on the staff of Mater Dolorosa Passionist Retreat Center, Sierra Madre, California.